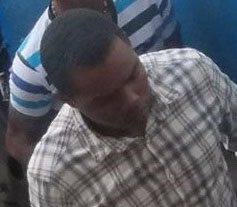 A GDF rank was yesterday remanded to prison over three armed robbery charges and alleged possession of an unlicensed gun and ammunition.
It is alleged that Jamal Hazel of `A' Field, Sophia on January 11th at Pere Street, Kitty in the company of another armed with a gun, robbed Andrea Purdessy of a cellphone valued at $210,000 and $400,000 cash.
The second charge stated that on the same date at Pere Street, Kitty in the company of another he robbed Andrea Purdessy of $4,560,000 in cash, property of Cyrilda DeJesus.
It was further alleged that on January 10th at North Road, in the company of another, he robbed Boodram Hemraj of a Brush Cutter Weeding Machine valued at $100,000.
Hazel pleaded not guilty to these charges.
It is also alleged that Hazel on January 13th at Middle Road, La Penitence had nine .380 ammunition rounds without being the holder of a licence.
On the same date, it is also alleged that he had in his possession a .380 pistol without being the holder of a licence.
Hazel also pleaded not guilty to these charges.
Before appearing at the Georgetown Magistrate's Court, he was at the Providence Magistrate's Court to answer to an armed robbery charge.
The facts in relation to the first two armed robbery charges state that the complainant had just arrived at her home where she was confronted by Hazel who held her at gunpoint and demanded her bag which contained money and various items.
The court heard that a gun and ammunition were found in a biscuit can at a home which Hazel shares with his aunt. The aunt stated that she knew nothing about the gun. Hazel and his aunt were both arrested and he then admitted to being the owner of the firearm.
Prosecutor Arvin Moore objected to bail being granted based on the seriousness of the offence and the likelihood that Hazel would flee the jurisdiction.  Prosecutor Moore further stated that the accused was a serving member of the GDF and should know better.
Hazel's attorney George Thomas stated that his client was beaten by the police to admit to the offences and he was told by the police that if he did not make the admission they would charge his aunt.
Magistrate Judy Latchman remanded Hazel to prison and adjourned the matter until January 30th.
Around the Web