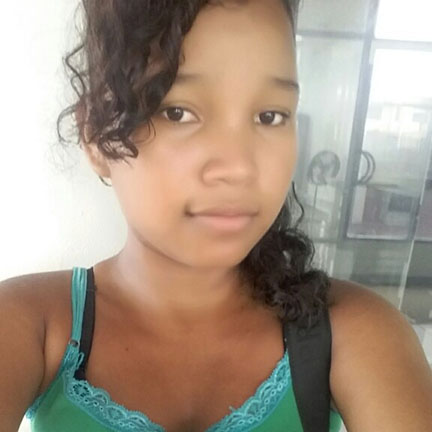 Kyle Goddette, who is accused of setting his ex-girlfriend and her current partner on fire during the wee hours of Saturday morning, was yesterday handed over to the police by his parents.
Goddette, who was initially held after the attack, had escaped custody between Saturday night and early Sunday morning.
Commander of 'G' Division (Esse-quibo Coast and Islands) Khali Pareshram told Stabroek News that the suspect was rearrested around 4 pm yesterday afternoon, when he was handed over to investigators. He stated that they are preparing a file to seek legal advice before instituting charges against Goddette.
Goddette is accused of throwing a 'channa bomb' at the home of Chavez Watson, where Susana Culpepper, was present at the time. The explosive landed on the bed and burst into flames, resulting in Culpepper and Watson being burnt.
Following the attack, sources said Goddette was arrested but denied the allegations during preliminary interrogation. He, however, admitted to committing the act as the interrogation progressed. A caution statement was taken from him by the police and he was being processed for court yesterday.
After the attack, both Culpepper and Watson were rushed to the Oscar Joseph District Hospital at Charity for medical attention. Watson was discharged from the hospital yesterday.
However, due to Culpepper's severe injuries, she was transferred to the Suddie Public Hospital and then to the Georgetown Public Hospital, where she remains.
Cheryl Benn, the mother of the injured girl, yesterday explained that while her daughter is communicating with her and eating, she is experiencing severe pain.
"She saying, 'Mommy it paining, I cannot bear this,'" the mother related to Stabroek News yesterday.
The mother will be meeting doctors today for an update on the girl's condition.
The mother had said that Culpepper was burnt on her face and hands as well as from her waist down.
At the time of the attack, Culpepper was at the home of Watson, two houses away from her home.
"The boy that was her boyfriend before go into the yard and he pelt something like a channa bomb that make with gasoline through the louvres window that was open and the fire fall on her. She said when she jump up she was covered in fire and the fire was blazing all around her," Benn previously told Stabroek News.
After neighbours managed to contain the fire, the victims were rushed to the hospital.
Culpepper had broken off the relationship with Goddette, Benn said, after she was abused constantly. During their time apart, Goddette made numerous attempts to mend the relationship but Culpepper declined.
Around the Web