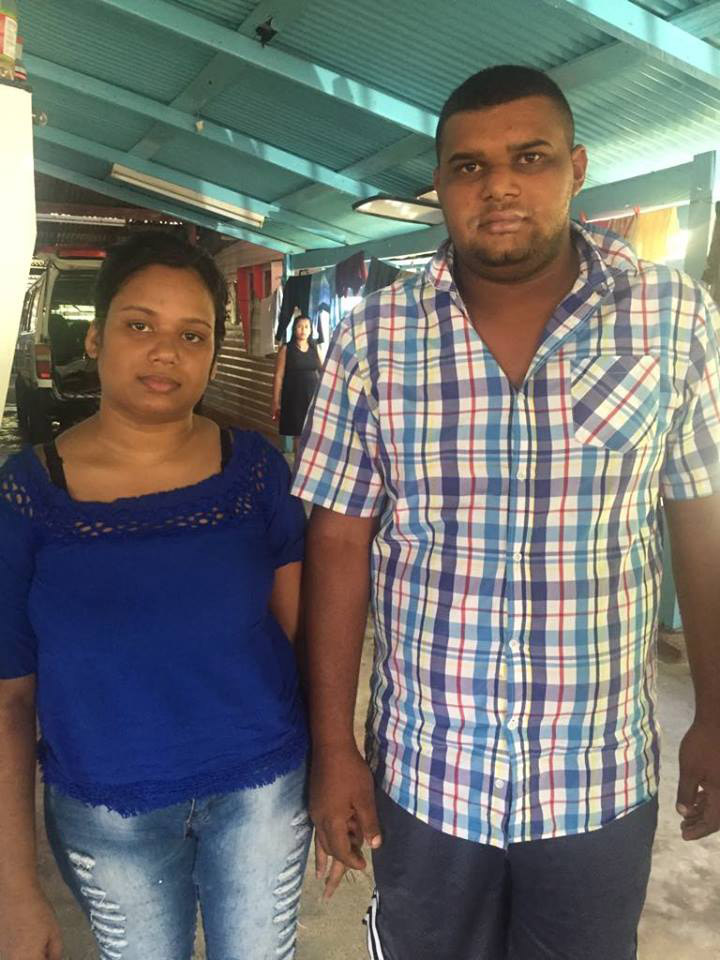 Gun-toting bandits yesterday morning invaded an Enmore Hope West house where they tied up a vendor and his family before carting off approximately $7M in gold jewellery and cash.
Chatterpaul Persaud also known as 'Krishna', 26, yesterday told Stabroek News that he and his wife, 24-year-old Nalinie Devi Deonarine called 'Dolly' were asleep when they were awoken by the sound of the bandits kicking open their door.
"Four man kick in the room door….them come in, two of them jump on the bed weh me deh, them tie me up, start lash up me with the gun and suh and then them attack meh wife, them start lash up she tuh and them start ransack the place", Chatterpaul said while adding that the men also tied their hands and feet with a bedsheet.
During the ordeal which occurred around 2 am, Chatterpaul said the bandits continuously demanded that he hand over the money and jewellery. "I didn't tell them anything, them ransack the place and find it themselves", he stated.
He was also struck in his head with the gun and was taken to the Mahaicony Cottage Hospital where he was treated and sent away.
The bandits who were all armed with handguns took $1.1M worth in gold jewellery, $50,000 cash, two cell phones and a 52" flat-screen television from the occupants of the lower flat.
While all this was happening, the couple's one-year-old child was with Chatterpaul's parents; Hemwattie Persaud called 'Nishe', 51 and Ghansham Persaud, 55 in the upper flat of the house.
The house, this newspaper learnt is monitored by cameras which the bandits disconnected and carried off the DVR.
Hemwattie related to Stabroek News that shortly before they were confronted by the bandits, she and her husband had just returned to their bed after taking turns in using the washroom.
They then heard a noise as if the door was opening and at first the woman said she thought it was her son and she called out to him but when she looked again, she saw the individual was wearing a 'tope' with a mask covering his face.
`Everything they carry'
"By time dah, the one that approach the door fuss, he back to back and two of them come up with gun and they seh 'no noise. Yuh want be alive or yuh want dead?' suh meh seh me want be alive, suh them seh 'no noise. Weh the money and the jewel' and meh tell them everything in the wardrobe, yuh search and yuh gon find everything", she said.
The bandits, Hemwattie said, told her, "oh yuh a business people, yuh have plenty money, yuh have million dollar, weh the million dollar deh" and she told them she doesn't have that much money but only the amount that they found.
The woman said she had $300,000 in Guyanese currency, US$1500 and $5M worth in jewellery in her wardrobe. "Everything they carry", she said.
Hemwattie said she begged the bandits not to harm them.
"Me beg them and them tie up meh husband and me tell them don't do he nothing that he sick and every day me got to carry he doctor", she said.
She added that the men tied up her husband and turned him to his side and she was left sitting on the bed.
"When them done tek everything, meh been got meh grandbaby with meh, them ask me if she does talk, meh tell them no suh them seh leh me nah mek she mek noise and me tell them ayo nah do me nothing and she nah guh mek noise", Hemwattie further related.
After taking the valuables, Hemwattie said the bandits bound her hands and feet and when they were about to leave they told her that she should check on her son (Chatterpaul) who was bleeding in the lower flat of the house.
"..Them seh them nah want hear no noise. Them come down, meh try open meh hand, open meh foot and like half an hour then meh come down", she said.
Chatterpaul was unable to raise an alarm during this period as he said he was trying to untie himself and his wife. By the time he was able to free himself  the men had already escaped.
They fled by breaking the padlock on the gate.
Hemwattie said that she immediately called her brother-in-law and informed him that they had just been robbed and he contacted the Enmore Police station.
However, the brother-in-law expressed disappointment in the response from the police.
"Well, the first time one woman answer meh at the station when meh call, then them tell meh that how them got to call CID and me got to go mek a report.
'Meh seh these people just get rob and meh call, me nah live with them, me live at meh own house'", the man related.
He said he immediately rushed to the scene and upon arriving he learnt that the police had not yet arrived. He then called again to enquire if they had left.
"Meh call back them again, them seh somebody got to go mek a report.
'Meh seh the people them a bleed heh how they gone go mek report'", he said.
He said about 45 minutes elapsed and then the police arrived at the scene.
Acting Commander of 'C' Division, Edmond Cooper and a team of policemen visited the scene, the police said.
Investigators have since obtained statements. Up to late yesterday afternoon, no arrest had been made.
Around the Web