A witness yesterday testified that murder accused Kelvin Chisholm had admitted that he pierced the man he is accused of killing with a knife during a scuffle.
The trial of Chisholm, who is accused of murdering Nigel Lawson, commenced yesterday morning before Justice Navindra Singh and a jury at the Georgetown High Court.
Chisholm has denied that he murdered Lawson on May 1st, 2014 in Georgetown.
Among those testifying yesterday was Police Lance Corporal Quinn Sandy, who said that during investigation, the accused had related to him that he had pierced Lawson with a knife during a scuffle.
Sandy said that Chisholm had related to him that Lawson had gone into his yard and picked up his cellular phone and iPad.
Though he called on the man to return his belongings, the witness said the accused told him that Lawson went away.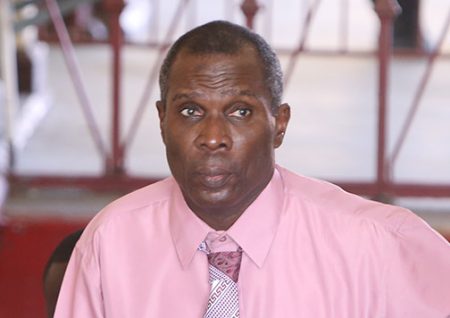 According to Sandy, the accused said he pursued the man on a bicycle and caught up with him at Quamina Street, where they got into a scuffle, during which he pierced Lawson with the knife.
Also testifying was former Police Constable Delicia Brown, who was attached to the Crime Scene Unit of the Brickdam Police Station at the time of the investigation.She recalled visiting the scene where she saw Lawson's motionless body lying on the parapet.
She said she examined the man's body and observed a wound to the left side of his chest and a suspected broken left arm.
Brown said, too, that she saw a red jersey, soaked in what appeared to be blood. She said she placed the clothing, which had a small hole to the left side of the front, in an evidence bag.
In her opening address to the jury, Prosecutor Tiffini Lyken said that Lawson was found motionless with a wound to his body and was rushed to the Georgetown Public Hospital, where he was pronounced dead.
He died of perforation of the heart and lungs, due to a stab wound to the chest.
Lyken said that after police investigations, the accused was arrested and charged.
The trial continues this morning at 9.
Chisholm is being represented by attorneys Hewley Griffith and Compton Richardson.
The state's case is being led by Lyken, in association with Prosecutors Narissa Leander and Abigail Gibbs.
Around the Web