In a much watched case, Magistrate Alex Moore today recommitted Muslim scholar, Nezaam Ali, to stand trial for the alleged rape of nine boys.
The ruling comes after the case was ordered reopened last year after it was discovered that key documents – birth certificates and medicals –were missing from the files.
The files were reconstructed and Magistrate Moore today recommitted Ali to stand trial for the matters at the next practicable sitting of the Demerara Assizes.
Ali, of 268 Section 'C' 5 South Turkeyen, was charged in 2012 with raping nine boys.
The charges alleged that between December, 2011 and January, 2012, Ali, being a teacher attached to the Turkeyen Masjid, engaged in sexual activity with the children, abusing a position of trust.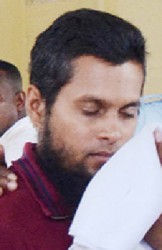 Around the Web