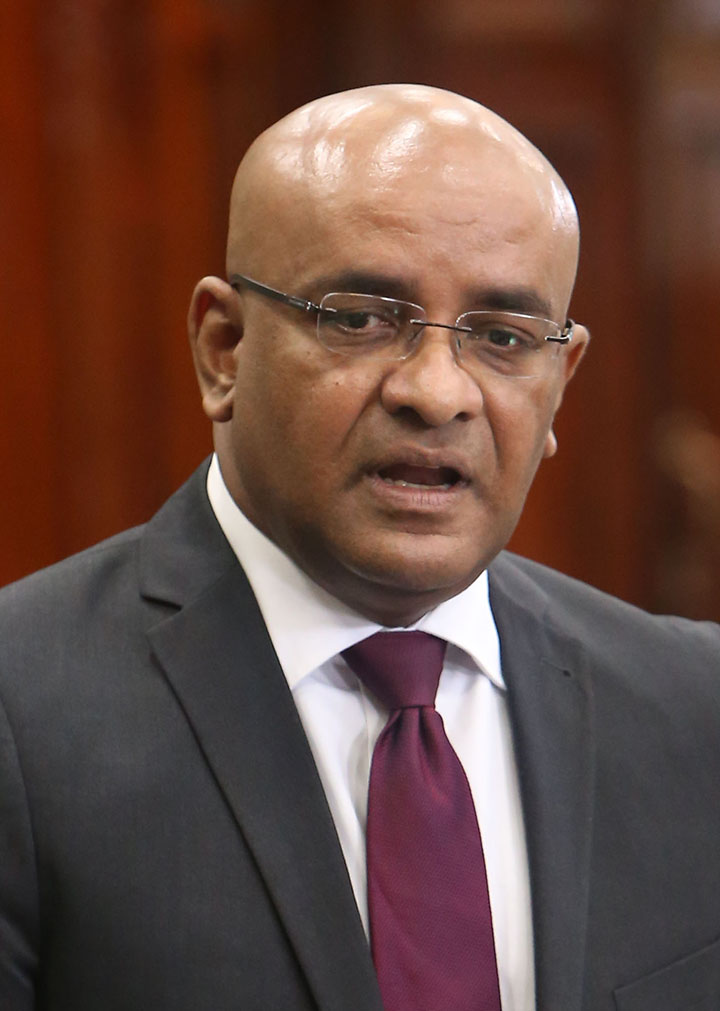 While it is already executing a campaign plan for the 2020 general elections, the People's Progressive Party (PPP) has not yet chosen a Presidential or Prime Ministerial candidate, Opposition Leader Bharrat Jagdeo yesterday said.
However, Jagdeo said when the party makes it selection it will be in keeping with laws of the country.
"When we decide who our candidate will be, it will be someone who the party chooses and will be consistent with the laws of the country," Jagdeo told a press conference yesterday.
The Caribbean Court of Justice (CCJ) is currently considering a challenge to the presidential term limits but Jagdeo yesterday continued to distance himself from the case, saying that he still supports the two-term limit per president.
"It was clear. I signed that into law and it is challenged. Signing it into law means I had to agree with it, that is my position," he stated.
Last Sunday, at the centennial birth anniversary of late PPP founder and President Dr. Cheddi Jagan, which was held at Babu John, Corentyne, Berbice, Jagdeo said that a strategy has been mapped out to ensure that his party returns to power come 2020.
He urged supporters to follow directives given as he believes it was key to ensuring a victory at the 2020 General and Regional Elections. Jagdeo, whose party lost the 2015 general elections by under 5,000 votes, told attendees that he forecasts a PPP win by 50,000 votes come 2020 but that it would not be realised without hard work and following through with his plan.
"I want the media and our supporters to know that we will not be lying down. We will be looking for every loophole," he told the over 1,500 attendees at the event.
He would later add, even as he reminded that the next election will be one of the most critical in the country's history, "We will wage the fight until the PPP is victorious. And no matter what [President David] Granger does, we are sending the message that this is a different time".
He made no mention of who will be the party's next presidential candidate.
Yesterday, he said that he saw no need to because the party has not yet decided on that aspect of the plan and he believes that right now "it is a moot issue."
"Right now that has not been decided. That is a moot issue at this time. I have a job and that is General Secretary of the party," he said.
Jagdeo said that while he laid out an outline of the strategy on Sunday, there are still "hundreds of details we have to fill in."
"A speech of that nature would not allow me to lay out the comprehensive plan that we have developed that would take us back to power. I made it clear I did so as General Secretary of the party, the head of the party, that is what I spoke as. And my job as General Secretary of the PPP is to prepare the party to take power and that means working on a strategy, working on a strategy to broaden the base of the party. In our stronghold, to have people who left return and in APNU's stronghold, to have people come and join us," he stated.
He echoed most of what he said at Babu John on Sunday, while adding that there would be significant mechanisms to assure civil society and other groups that he was not merely giving lip service.
"[We will make] clear our policies for the future and how we will accommodate the concerns of the major interest groups in society including civil society. What commitments we will give to civil society and how we will make sure that we have a mechanism to implement those commitments, ensuring that when we get into office that we don't break those commitments and  ensuring that we will be helping to implement the commitments etcetera," he said.
The PPP General Secretary said that he enjoys fulfilling the requirements of his current role. "That is why I took the job as General Secretary. Had I not wanted to do this I would not do it," he stressed.
Around the Web