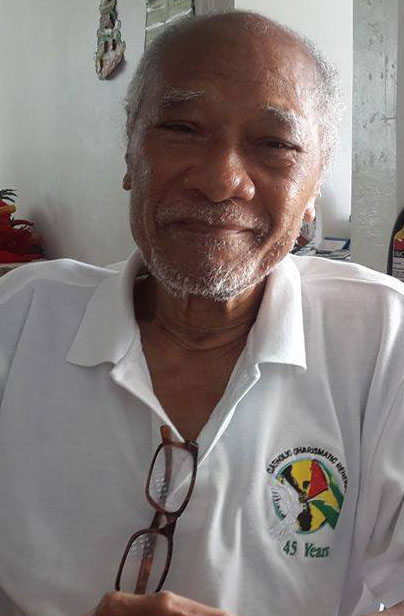 Former Georgetown Mayor and popular florist Compton Young died in hospital last Thursday and he is being remembered for his generosity and his dedicated efforts to ensuring that the city was kept clean.
Young, who was 77, died at the Georgetown Public Hospital Corporation, where he had been earlier admitted as a patient.
Although Young had been a resident of the St Thomas More Men's Homestead for several years, a resident, who asked not to be named, told Sunday Stabroek that he left to stay with a close family friend in La Penitence sometime last year.
Prior to him leaving the Catholic-run homestead, the resident noted, Young, who had one of his legs amputated as a result of diabetes, was hospitalised on several occasions as his health deteriorated.
Young had no immediate family here.
He took up residence at the homestead sometime around 2010, when he returned from the United Kingdom, where he had to undergo surgery to amputate his right leg due to neuropathy from diabetes.
Young was very familiar with the homestead as he frequently visited to mingle and take items for the men living there.
The resident who spoke with this newspaper said that he will always remember Young's generosity and his work as a devoted Catholic. "I have fond memories of him," the man stressed.
Meanwhile, the Mayor and Councillors of Georgetown yesterday expressed sadness at Young's passing.
A press release issued by Town Clerk Royston King, informed that Young served as Mayor of the nation's capital from 1990 to 1994. "In his mayoralty, he encouraged citizens to improve the aesthetics of their local communities and to take responsibility for the physical condition of their neighbourhoods. He was particularly passionate about restoring Georgetown to its pristine state which earned it the reputation as the "Garden City." Even after he left City Hall, the late Mr. Young remained unswervingly committed to the vision of a clean, green and healthy city," the release said.
It stressed that with the death of Young, the citizens of Georgetown have lost a "strong civic crusader."
According to the release, Mayor Patricia Chase-Green and former city councillors who served with him have said that Young will be long remembered as a visionary city leader and for his good works and wisdom. It added that despite being elected mayor on the ticket of a political party, in his management of the Council Young rose above partisan politics and thus became a true city father and change-maker of the city.
"The Council remains grateful for the precious time and invaluable service he gave to the City of Georgetown," the release said, while extending sincere condolences to his grieving relatives and those who loved and cared for him.
Young had operated a popular flower shop, The Flower Shop, located on Middle Street, Georgetown, for 45 years before he sold it.
In a previous interview with this newspaper in December, 2015, Young, the son of Chinese and Grenadian immigrants, had noted that from a very young age he realised he was blessed with gifted hands that created art in the form of floral arrangements.
He had said that he realised that arranging flowers was his calling and this, coupled with his love for plants and nature, was the catalyst to him establishing one of the first floral shops in Guyana. His parents encouraged him to follow his passion and he did.
The youngest child of six, Young started out making paper flowers on North Road but after seeing the potential market, he invested and bought a property on Middle Street and opened The Flower Shop. The business was an instant hit and Young's clientele grew, with persons throughout Guyana often referring to him as "the flower man."
"I did not go to school to learn this you know. It's these hands I tell you," he chuckled turning his palms up and down. "You have to find your calling and give it your best, it's the best advice. You will love what you do and can see the joy it brings to others also," he had said.
Around the Web