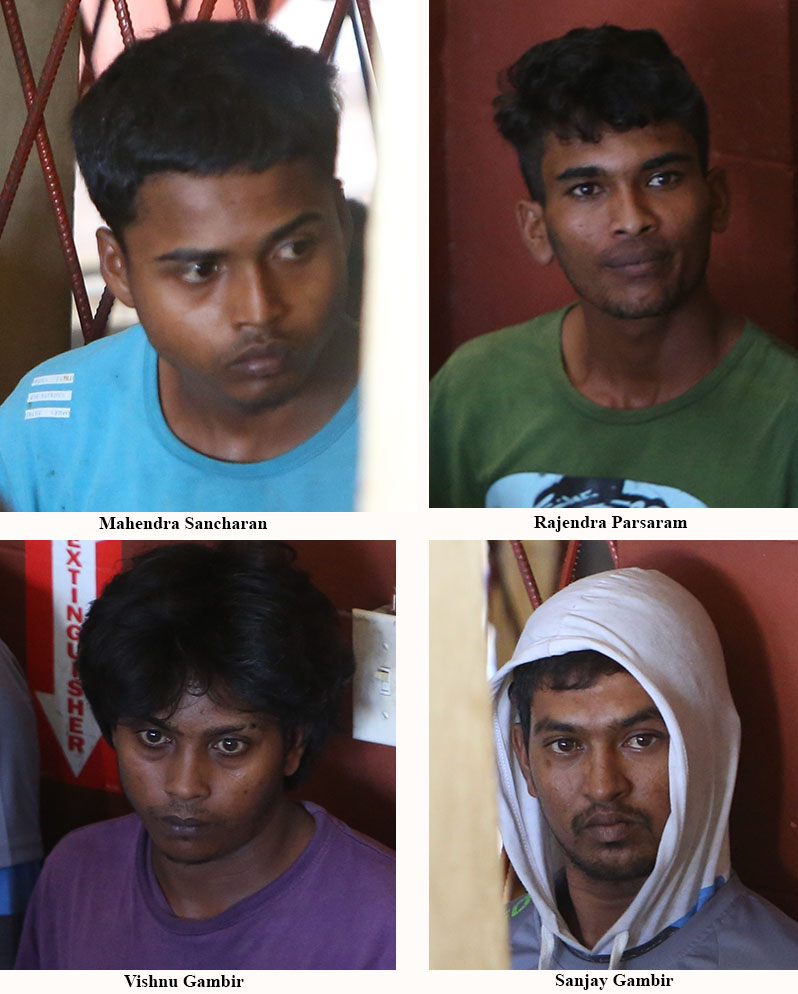 Four more fishermen were yesterday charged and remanded to prison over a $4.6 million pirate attack.
It is alleged that Mahendra Sancharan, 25, Rajendra Parsaram, 19, and brothers Sanjay Gambir, 18, and Vishnu Gambir, 22, armed with two guns and cutlasses, robbed the vessel Ana Teresa, owned by Vickash Balkisson, of a 75 horsepower Yamaha outboard engine, valued at $2 million, 15 hundred pounds of seine, valued at $2 million, 11 45-gallon plastic drums filled with gas, valued at $450,000, food items, valued at $150,000 and two 24-volt Power Master batteries, valued at $60,000.
They allegedly carried out the attack on February 19th, 2018, in territorial waters of the Corentyne, Guyana.
Attorney Paul Fung-A-Fat, who represented the four men, stated that they were all held by the police and beaten to sign false confession statements. He then requested that bail be granted so the men can seek medical attention. He further stated that none of the items that were allegedly stolen were found in the possession of any of the accused.
Police Prosecutor Gordon Mansfield objected to bail being granted based on the serious nature of the offence and the fact that weapons were used in the commission of the crime. He then stated that the police had up to today to hold the accused as an extension was granted for them to keep the men in custody as the investigation is still ongoing.
Acting Chief Magistrate Sherdel Isaacs-Marcus denied bail and adjourned the matter until March 27th, when it will be heard at the Springlands Magistrate's Court.
One other person, Shameer Haniff, 40, was previously charged with the crime. The prosecutor stated that the charge against Haniff will be withdrawn and he will be jointly charged with the four accused.
Around the Web