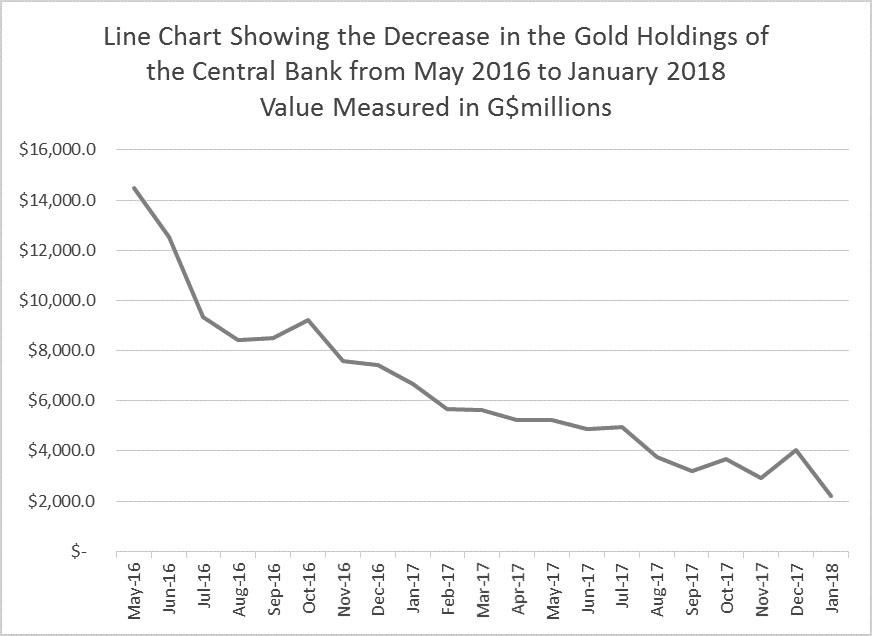 The value of Guyana's gold reserves has decreased as the Bank of Guyana takes advantage of higher international prices to sell.
The statistical abstract for January 2018, which is published on the bank's website, indicates that between May 2016 and May 2017 the value of Guyana's gold holdings fell by almost $10 billion dollars from $14,498,200, 00 to $5,219,500,000. The decrease in holdings has continued with January 2018 holdings valued at just under $3 billion.
Asked by Stabroek News to explain this variation, BoG Governor Gobind Ganga indicated that over this period the price for gold on the world market was relatively high so a decision was taken to sell holdings so as to benefit from maximum profit.
"You sell when value is high and buy when it is low," he noted.
In May 2016 the price for an ounce of gold on the world market was within the range of US$1,250 per ounce. During the year gold reached a high of US$1,363 per ounce in August. Analysts pegged the total increase in the value of gold bullion in 2016 at 9.1%. This increase was surpassed in 2017 when values rose by a total of 11.9%. This was the highest annual close in US Dollar terms since the peak of 2012 according to the Bullion Vault, a news site dedicated to following international news on the valuable metal.
Around the Web