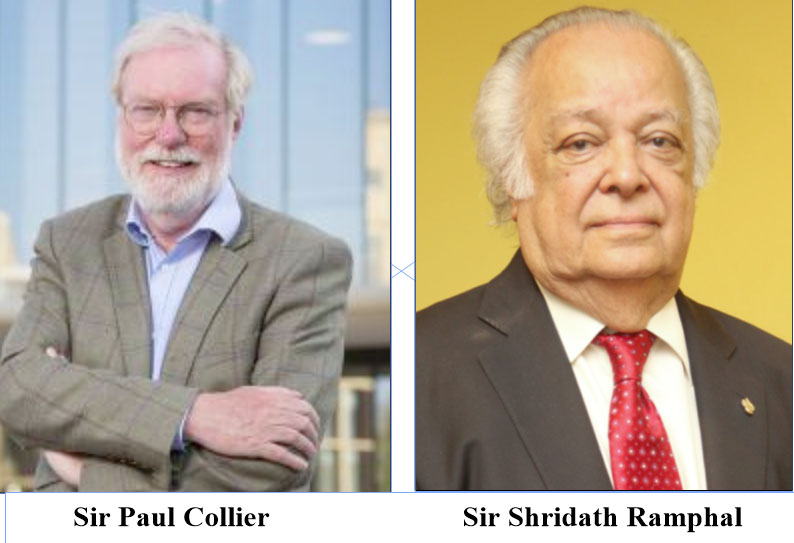 A group of international researchers and petroleum policy advisors will today meet Cabinet ministers to discuss the emerging oil and gas sector and give insight into prudent preparations for the revenues that will be generated from the industry.
"The Government's objective is part of an ongoing effort to move preparations to a deeper level of engagement on issues such as prioritizing spending on infrastructure, agriculture and social programmes, inter-generational savings, geo-political considerations, legal and institutional strengthening, benefit sharing and engagement and involvement of the people of Guyana…," a statement from the Ministry of Natural Resources last evening said.
Facilitated by Chatham House and the Royal Institute of International Affairs, through its New Producers Group, the all- day meeting with government ministers will see interactive sessions between the two groups.
It is unclear if the experts will advise Cabinet on the structure of a proposed Department of Energy which government recently announced that it plans to establish but the ministry said that the caucus is "expected to lead to further similar engagements in a scheduled and programmatic way in the months ahead."
The caucus is coming in the backdrop of scathing criticism of the government over its Production Sharing Agreement in 2016 with ExxonMobil's subsidiary EEPGL which experts say has left Guyana with a poor share of revenues.
The seven experts are Professor of Economics at Oxford University, Sir Paul Collier; Sir Shridath Ramphal, Caribbean Statesman and International Advisor;  Eric Parrado, former Manager of the Sovereign Wealth Fund of Chile and   Ambassador Patrick Duddy, Lecturer, Duke University.
Also on the list are Dr. Valerie Marcel, a Chatham House Fellow; Professor Matthew Andrews, Harvard, Kennedy School of Government; Professor Peter Harrington, Harvard, Kennedy School of Government; Patrick Heller, Advisor, Natural Resource Governance Institute and Dr. Paloma Mohamed, University of Guyana.
Sir Paul is Professor of Economics and Public Policy at the United Kingdom's Oxford University's Blavatnik School of Government. He is also a Professorial Fellow of Oxford's constituent college- St Antony's College.
The Ministry of Natural Resources says that Sir Paul is "a world leading thinker on the resource curse".
With the current nexus between Venezuela's heightened aggression and the find of oil here, Guyana's Sir Shridath, who is assisting government with preparing a legal team for its case at the International Court of Justice, will brief Cabinet on the status of that matter and putting into context for Cabinet members that linkage.
The former Common-wealth Secretary-General was also in 1995 one of the co-chairs of the Commission on Global Governance, which reported on issues of international development, international security, globalization and global governance.
And former United States Ambassador to Venezuela, Patrick Duddy, will also be one of tomorrow's presenters.
Duddy served as a US diplomat for nearly thirty years and at the time of his retirement was one of the Department of State's most senior Latin American specialists, with broad experience in trade, energy, public affairs and crisis management.
According to MNR, from 2007 to 2010 he served as the US Ambassador to the Republic of Venezuela for both President George W Bush and President Barack Obama.
Cabinet ministers will also hear from Harvard Kennedy School of Government's senior Lecturer Matt Andrews who teaches.
According to Harvard's website, Andrews undertakes research work and focuses on public sector reform, particularly budgeting and financial management reform, and participatory governance in developing and transitional governments.
"He is a globally acclaimed thinker and practitioner in the areas of governance, institution-building and public sector reform. He is Faculty-Chair of Executive Education at the Kennedy School, where he leads courses on leadership in developing country governments… He leads projects around the world on institutional strengthening, designing reform and economic growth and has worked with a variety of governments," the MNR release states.
Fellow academic researcher at Harvard, Peter Harrington, will also be one of the persons speaking to the President and his ministers. Harrington's bio states that the strategist "has advised governments around the world (including Kenya, Albania, Sri Lanka, Ethiopia, Sierra Leone, South Sudan, and Uganda, among others) on strategic communications – especially related to oil – as well as energy policy and economic growth. He has consulted on major oil infrastructure projects, and as a Senior Advisor to the Tony Blair Foundation for Global Change.
Another researcher, Patrick Heller has worked on legal reform and governance initiatives in the developing world for more than 15 years for organizations including USAID, the US State Department, the Asian Development Bank, Creative Associates International and The International Center for Transitional Justice. He is a research affiliate with the Program on Energy and Sustainable Development at Stanford University.
Dr Marcel's experience includes advising governments on petroleum sector policy and governance. She is a member of Columbia University's Executive Session on the Politics of Extractives and was a member of KPMG's advisory team for energy-sector governance and the World Economic Forum's Global Agenda Council on the Future of Oil and Gas and previously led energy research at Chatham House.
And with the David Granger-led APNU+AFC making moves to establish a Sovereign Wealth Fund, Manager of Chile's SWF, Parrado is likely to face myriad questions on his experience.
Parrado's biography says that the economist and former superintendent of Banks and Financial Institutions in Chile, managed assets of US$22 billion for his country. "He was particularly important to develop and promote the international code and principles of best practices for SWFs in the world. His active role in this international discussion helped to call this code internationally the `Santiago Principles'", according to online websites.
Around the Web