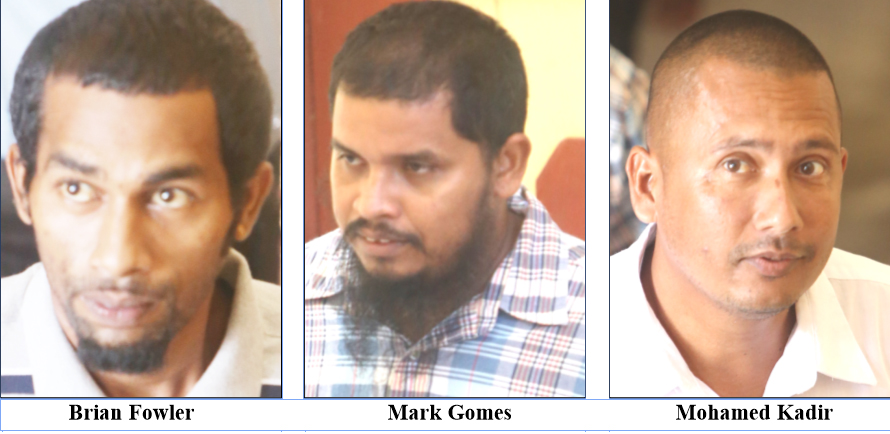 A mason, who was charged yesterday alongside the son of accused cocaine trafficker Andre 'Zipper' Gomes and another man, has been sentenced to four years in jail and fined over $6 million after he admitted to trafficking almost five pounds of cocaine.
Brian Fowler, 33, of Better Hope, East Coast Demerara, pleaded guilty to a charge which stated that he, along with Mark Gomes, 33, of Campbellville, and Mohamed Kadir, 37, of Goed Fortuin, trafficked 2.50 kilos, equivalent to 4.9 pounds, of cocaine, on March 29th at Sheriff Street.
Customs Anti-Narcotic Unit (CANU) prosecutor Konyo Sandiford noted that on March 29th, at about 7.45 pm, CANU observed two motor vehicles, one driven by Kadir and the other driven by Gomes. She said that Kadir left his vehicle with a yellow Shell gas bottle and took it to PMM 5807, where Gomes was seated in the driver's side. Fowler was observed as a passenger in Gomes' vehicle when CANU ranks confronted them.
According to Sandiford, a field test was then conducted on the only yellow bottle that was seen by ranks, in the front seat of Gomes' vehicle, and it tested positive for cocaine. Further searches were done on the vehicles and a confrontation was held.
As a result of his guilty plea, the magistrate sentenced Fowler to four years in prison and also fined him $6,075,000.
While Fowler pleaded guilty, both Gomes and Kadir pleaded not guilty to the charge, which was read to them by Chief Magistrate Ann McLennan in Georgetown.
Sandiford objected to bail being granted to Gomes and Kadir.
Attorney Mark Waldron, who represented Gomes, urged the court to grant his client bail, while noting that there was no greater special circumstance than one of the other suspects pleading guilty to the charge. He added that his client is not a flight risk.
Sandiford, however, objected to bail being granted to Gomes based on the facts of the case.
The Chief Magistrate later remanded both Gomes and Kadir to prison and adjourned the matter until April 13th.
The senior Gomes is also currently a remanded prisoner as he is being tried for cocaine trafficking
Around the Web