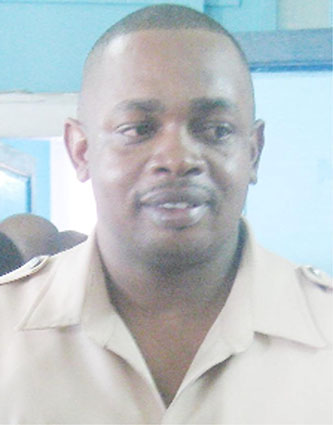 After the recent Court of Appeal finding that he was wrongly dismissed by the Guyana Police Force in 2009, former Police Superintendent Simon McBean has not ruled out the possibility, if asked, of returning to the institution, to which he had dedicated 17 years of his life.
"If I'm offered back the job is a tantalising question …it will be premature to answer, since such a decision will require much deliberation with my family, lawyer, and the offer put forward," McBean, who currently resides abroad, told Sunday Stabroek recently.
The court unanimously overturned an earlier decision made by the High Court. It was because of that ruling that McBean approached the Court of Appeal seeking relief.
The State, the respondent in the case, has not appealed the ruling and this newspaper was told that there are no plans to do so.
McBean had received marching orders from the Guyana Police Force almost a year after he had already returned to Guyana from studies abroad and resumed duties.
Having secured a scholarship to pursue a Masters Degree in Global Security at the University of Leicester in the United Kingdom (UK), McBean said he applied for study leave to cover the academic year between October 1st, 2007 and September 30th, 2008.
In court documents, he said he got no response from the Police Service Commission (PSC) regarding his request. According to him, he thereafter made an application for no-pay leave, but again received no response.
As a result, McBean said he applied for and was granted his three-month accumulated annual leave, upon which he proceeded before thereafter travelling to London to pursue his studies.
The dismissed officer had said that while abroad, he was diagnosed with post-traumatic stress disorder and was advised by the doctor to "stay on and finish the degree since it would help to improve my condition."
McBean returned to Guyana on September 14th, 2008 after completing his studies and resumed normal duties until he received a dismissal letter on September 4th, 2009, informing him that his services had been terminated as of Christmas Day of 2007—the day after his three-month annual leave ended.
An aggrieved Mc Bean, who thereafter took the PSC to court for wrongful dismissal, argued that while it cited that he was being dismissed for breach of regulation, it never said what regulation was breached.
Contacted by Sunday Stabroek, McBean said that "ecstatic" is the word he would use to describe his reaction to the ruling. "This positive decision is what we were expecting five years ago," he told this newspaper.
Appellate judges Rishi Persaud, Arif Bulkan and Rafiq Khan unanimously agreed that it was undisputed that McBean had no hearing, notwithstanding the procedures laid out in the PSC Rules and the Police Disciplinary Act.
In those circumstances, the Court allowed the appeal and remitted the matter to the High Court for assessment on quantum of damages and superannuation benefits, which would have accrued, having declared that he had been wrongfully dismissed. No costs were awarded by the court.
Asked what his next step will be, he said that he is awaiting the final process of the High Court with regard to damages and superannuation benefits. It is unclear how long this will take.
"Notwithstanding, my love and zeal for law enforcement and the Guyana Police Force has not changed over the years," he further added.
Following his dismissal, Mc Bean had told the media that whatever action he took was done with the interest of the force in mind, while noting "it's a job that I love, and I love serving people." He had used that occasion to urge the force to put in place the necessary administrative measures to accommodate police officers who wished to pursue academic enhancement programmes which would in turn benefit the force.
Around the Web