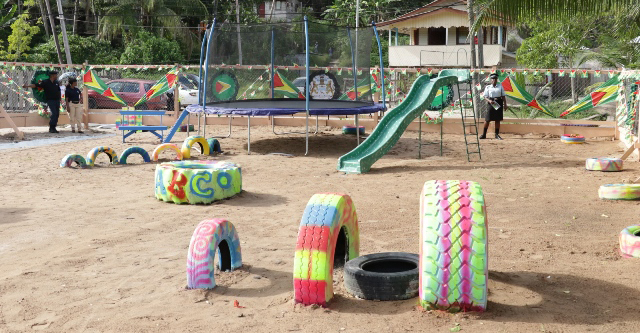 President David Granger on Friday commissioned a play park at the Victory Valley Community Centre Ground located at Wismar, Linden.
A release from the Ministry of the Presidency said that the play park was developed and outfitted by private citizens.
The release said that the President recalled his struggles for local government elections  when he was Opposition Leader and said that these elections held in 2016 have paved the way for the creation of new towns with vibrant municipalities, whose mayors and councillors are responding to the needs of the people. He noted  that when he first got into Office in 2015, one of the first things he did was to change the name of the Ministry of Local Government to the Ministry of Communities as citizens must understand that they have to live together in communities which cannot be run from the top.
Most of the towns in Guyana are located at a waterfront and the President urged that these areas be developed and enhanced as green spaces. "This little park here today symbolises empowerment… I see this play park as the first step in opening new parks in more communities… Every constituency in Guyana should have a park like this because what better thing can we do than watch our children have clean fun," he said.
Meanwhile, Minister of Social Protection, Amna Ally in her remarks, informed that in 2017 during a ministerial outreach in Wismar, residents of Victory Valley requested a recreational park for their children. "We are here to deliver on that promise. This is how this Coalition works… We interface with our people; we hear their needs and deliver once it is practicable. The Ministry of Social Protection is mandated to oversee the welfare of children and so we will always respond to those needs. We will work to ensure that the needs of our children, regardless of where they come from, are met," she said.
Ally noted that for far too long, communities in Linden were neglected by the former Administration. "This Government has done more for the people of Linden in three years  then what the PPP [People's Progressive Party] did in 23 years," she said.
Around the Web