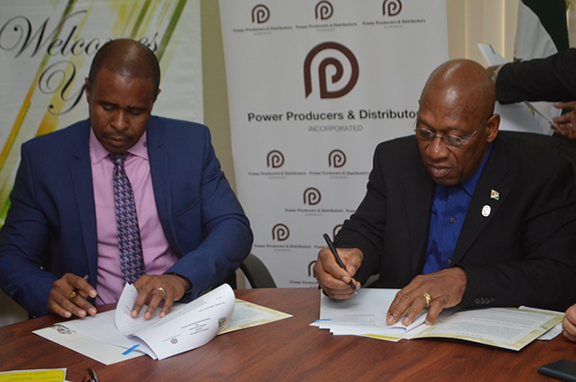 The University of Guyana (UG) yesterday signed an agreement with the Power Producers and Distributors Incorporated (PPDI) to allow students within the Faculty of Technology to continue receiving hands-on training within their fields of study.
The signing took place at the Office of the Vice-Chancellor, with representatives from both entities present, according to a release from the Department of Public Information.
The partnership, according to a release from the university, will facilitate five students being sent on industrial attachments with the company every year, and will see the University receiving $1.5 million annually. The company manages the Guyana Power and Light's power generators.
"We have selected the University essentially because over the years we've seen the quality of their students and we want to enable them to sustain their engineering programmes. In the past, we would've benefited tremendously from the graduates of this programme, so much so that 60% of our management staff are University of Guyana graduates," Arron Fraser, Chief Executive Officer of PPDI stated yesterday. It was noted that while the agreement was only formalized yesterday, the partnership between UG and PPDI is actually one that is 12-years-strong.
Deputy Vice Chancellor for Academic Engagement at UG, Professor Michael Scott, shared the belief that the formal agreement will further strengthen the relationship the entities already share.
"The inking of an agreement is basically a confirmation of that commitment and a desire for our relationships to be deepened so that at the end of the day our students benefit from the best opportunities that could be afforded," Scott was quoted as saying.
"…it's imperative that we give our students as much industrial experience as possible because that not only helps them to relate their theoretical knowledge in [the] classroom to industrial experience in the industrial environment, but also gives them the opportunity to grow character-wise," he also stated.
Around the Web