With the State Assets Recovery Agency (SARA) close to mounting its first set of cases, its Director Professor Clive Thomas yesterday made an appeal for Guyanese to take ownership of the fight against corruption, while saying that there has been an over-reliance on foreign help.
"We have an established over-dependence on the international community. Almost all the things we have managed to do so far, [including] the creation and passage of the [SARA] bill has come through tremendous amount of effort on their part and as a Guyanese I don't think that is right. We should be contributing," Thomas told those gathered at a ceremony yesterday ahead of a "symbolic walk" against corruption organised by SARA.
Thomas encouraged "the self-help of Guyanese," while warning against inertia. "The best way we can distinguish ourselves and show we are serious about the fight against corruption is by self-help. We have to take our role and our stance… the fight against corruption is indeed everybody's business," he argued, while noting that SARA is prepared to take the lead and to take the first blows but the general population must show their support.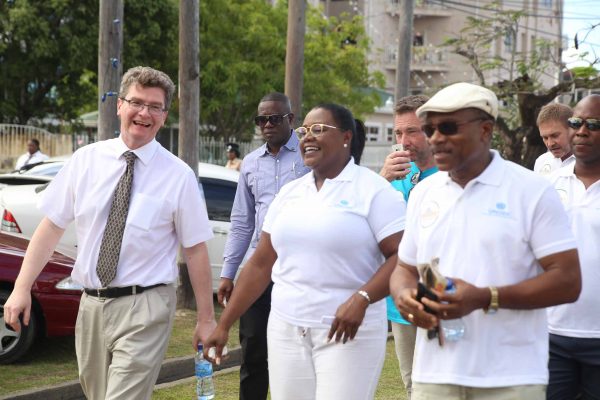 "You can't expect us to go and fight your battles on your behalf and you do nothing…We have to recognise that as long as we do not remain inert, we contribute and make the process greater and deeper," he added.
Thomas, however, explained that in accepting international help, he finds solace in the knowledge that the fight against corruption is an international fight and expressed gratitude to the United Nations Office on Drug and Crime (UNODC).
Thomas yesterday also reported that that the agency is dealing with up to 60 cases but at the start of the third quarter it remains hopeful of initiating legal proceedings for about 10 strong cases, which will have to be initiated in foreign jurisdictions. He had previously told Stabroek News that in the third quarter SARA would take six cases to court.
"We can't recover state property in this country, believe you me, without fighting in the courts outside of Guyana. So, the fight that we engage in here is not a national fight. It's a global fight! The wealth has left Guyana. It is deposited into accounts in places outside of Guyana and we have to find the means and the support that we need to get to those accounts, to place the charges against the persons who hold Guyanese assets through some initial unlawful conduct and to try to recover it for Guyana and we can only do it with international help," he said.
He explained to reporters that because many of the cases will be initiated in foreign jurisdictions, SARA is making sure that the assets have a "target value" of at least US$10 million.
"The act in Guyana says we can only proceed with recovery in cases that exceed Gy$10 million but that's chicken feed overseas so we have to get cases that will at least be asking the courts overseas to deal with at least US$10 million," Thomas stressed.
'Still work to be done'
British High Commissioner to Guyana Gregory Quinn also spoke at the event and noted that for the fight against corruption to be successful, people must be free to highlight corruption and see the corrupt brought to book.
"People need to feel that they will be taken seriously and that action will be taken so proper reporting systems need to be put in place as well as systems to protect those who report wrongdoing," he said.
Quinn reminded that corruption corrodes the fabric of society, undermines the people's trust in the systems and institutions as well obstructs democracy and rule of law, while depleting national wealth and degrading the physical environment.
According to him, while progress is being made in Guyana, there is still much to be done.
"Things are getting better slowly… it is important to note a score below 50 indicates problems with corruption, so let's not think this is still not an issue," Quinn stressed, while referencing the Transparency International Corruption Perceptions Index.
Guyana has in recent years seen its rating on the index improve. In 2017, Guyana scored 38 to rank 91st of 180 countries in the index, an improvement over 2016, when it was ranked 108th of the 176 countries with a score of 34. In 2015, it was ranked 119th of 167 countries with a score of 29.
Yesterday's march, which proceeded along Camp Street from the junction with Lamaha Street to the junction with Church Street, is among a series of activities being undertaken by SARA to bring awareness and change the culture and narrative of corruption. It was executed under the theme 'Corruption is Everybody's Business.'
The march became the subject of controversy after the parliamentary opposition PPP/C labelled it a "smokescreen" to "detract from the grossest violations of the constitutional and statutory provisions regarding financial probity, transparency and accountability ever witnessed since independence."
Though invited, the opposition chose not to attend. Also absent were private sector leaders and senior government ministers.
However, Junior Natural Resources Minister Simona Broomes, who hailed the establishment of SARA as a "promise kept" by the APNU+AFC government, did represent the government.
Civil society group the Transparency Institute of Guyana Incorporated showed up with its own request. For the duration of the walk, TIGI Director Alfred Bhulai displayed a placard calling on SARA to recover the US$18 million signing bonus received by government from ExxonMobil for the National Assembly.
However, SARA's Chief Executive Officer Aubrey Heath-Retemyer was skeptical of his agency's power to act in this regard. SARA, he explained, acts upon formal requests to recover state assets which have been transferred to private ownership.  "I'm not sure it has been established that the bonus is not still within state control," he told Stabroek News.
The State Assets Recovery Act, which was enacted last year, established SARA to combat unlawful conduct and corrupt practices in relation to property and other assets owned by the state, or in which the state has an interest. SARA is specifically mandated to recover state property or benefits obtained through unlawful conduct by public officials or other persons. This will be done through civil litigation.
Around the Web