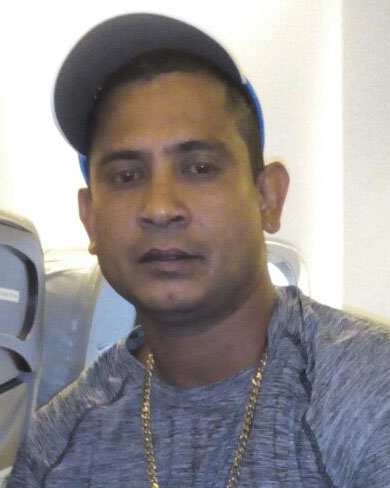 A dispute between two East Coast Demerara families has left a Good Hope auto dealer in a serious condition at a city hospital after he was attacked and beaten on Sunday evening by a group of men.
Injured is Totaram Jaichand, popularly known as 'Ravi', 40, a father of two, of Lot 143 Good Hope, East Coast Demerara. Jaichand is the proprietor of TJ Auto Sales.
Jaichand sustained injuries about his body, mainly his head, and is currently admitted at the Georgetown Public Hospital (GPH), where he has been drifting in and out of consciousness.
Jaichand's condition is listed as critical.
Family members related to Stabroek News that the incident took place around 10pm on Sunday and was caught by surveillance cameras.
Reports are that the dispute started hours after Jaichand and his friend 'Racko', who is said to be the leader of the gang, were imbibing at his home.
It was reported that Racko's wife called Jaichand's home and made remarks about his family, after which the men turned up at Jaichand's residence and threatened him after he refused to come outside, as they requested.
According to Anjali Jaichand, the injured man's daughter, the incident stemmed from an ongoing feud between their family and Racko's family— the Baboolall's of Annandale.
"Is his (Racko) wife start the problem. She called my grandmother and…started to talk a set of things about our family", Anjali related to Stabroek News.
The suspects, Anjali said, are part of a gang that is made up of eight persons, four of whom were involved in the incident.
According to Anjali, her father was at home relaxing on Sunday evening, when four men including 'Racko' and his son turned up in front of their premises. "They call he (Totaram) out to make a threat and he didn't go out and they say if you don't come out today, tomorrow (Monday) if they catch him in he vehicle anyway they will pull he out and beat he", she said.
She explained that the men subsequently left after which Totaram contacted a friend who lives in his area and told him that he needed to visit the police station in order to make a report.
As a result, the friend drove his car and they were on their way to the police station when they stopped at a shop in the area to purchase a phone card, Anjali said.
Not knowing that the men did not leave the area and were at the said shop, Totaram was attacked and beaten with a piece of wood. "He go in there and the guys was already in the shop and that is where they caught him", Anjali related.
The friend that had been accompanying Totaram at the time was also beaten and sustained minor injuries. The men also hit his car, resulting in damage.
According to Anjali, her family learnt of the incident after one of her father's friends visited their home and told them that he was being beaten.
"When we arrived there, the people them who beat him, I saw them, they were standing over him, nobody didn't help him to get up or anything", Anjali stated.
She said that based on the footage, after the men attacked her father, he fell on the ground but they continued to beat him about his body.
Jaichand was rushed to the hospital by his 15-year-old son, where he remained a patient up to last evening.
"Is a gang fight, them gang he up, the way how they run and come pun he; from he back them come and bank um", Jaichand's wife, Undrea said. "Them lash am fuss and he fall down ah ground and imagine he deh ground and them still ah beat um", she added.
Stabroek News was told that an investigation has since been launched by the police. Three persons, including a female, were arrested for questioning but have since been released on station bail as the hunt continues for the other suspects.
Around the Web