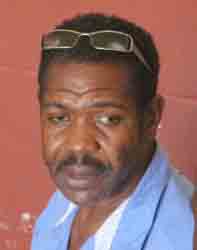 After a two-year long trial, a Jamaican national was yesterday found guilty of forgery and overstaying, for which he was sentenced to 18 months in jail.
Alfred Wellington, who has been a remanded prisoner since he was held in April of 2016, was also on trial for a charge of possession of cocaine for trafficking for which a verdict is expected to be delivered on Monday. Wellington, who had been staying at Friendship, East Bank Demerara, was charged with cocaine possession, forgery and overstaying in Guyana.
It was alleged that he had 1.324 kilogrammes of cocaine in his possession for trafficking on April 2nd, 2016
Wellington was also accused of conspiring with a person or persons unknown to forge a driver's licence in favour of himself to show that same was issued by the Licence Revenue Department.
It was also alleged that between April 18th, 2011 and April 2nd, 2016, he failed to comply with the conditions of a permit and overstayed his time in Guyana.
Georgetown magistrate Fabayo Azore yesterday found Wellington of the forgery and overstaying charges.
She sentenced him to 18 months in jail on the forgery charge and fined him $40,000 or a default sentence of three months in jail on the overstaying charge.
Around the Web