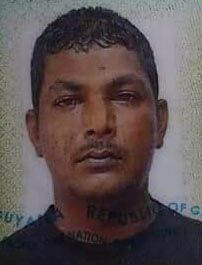 The wife of the boat captain who is feared dead in the second piracy attack off Suriname last Wednesday is pleading for assistance from the public, as she is unable to look after her five children by herself. She can be contacted in Suriname on telephone number 597 8700 991.
The woman's husband, Hardeo Beechan, called Ganesh, 32, was the captain of the boat which was attacked  last Wednesday night out on the coast of the  Matapica Canal, approximately eight miles from the Paramaribo River mouth. The man was reportedly chopped and thrown overboard by his attackers, while the other crew members have since been found and taken to safety.
The Moruca, Guyana woman, Lorette Daniel, 31, of Commewijne, Suriname yesterday told Stabroek News that no-one has contacted her since the news of the attack on her husband.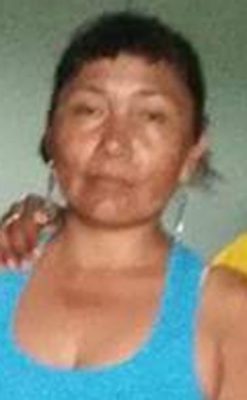 She noted that presently her neighbours have stepped in and are assisting her and her five children with food and other items. "He was the only one working, them neighbours does help me with lil food now".
Her children are ages 14, 11, 6, 4 and 2.
She said that the present situation is very hard on her and her children but that she is trying to keep her older children in school. She noted that the children keep asking to see their father and have not fully understood the situation surrounding the attack.
The emotional woman recalled that she last saw her husband of fifteen years on Monday when he left for sea, when he told her that he was heading out on a 'big trip'.
Breaking into tears, she said that it was last Thursday she heard her husband's boat had been  attacked and that he was missing.
She also relayed that relatives are searching for her husband, however, she added, that her husband cannot swim, as such she is unsure whether he would have survived in the sea.
The missing man's brother, Heeralall Beechan had previously told this newspaper that the crew members from his brother's boat had returned to land with coast guards and were taken to the local hospital for medical attention. The crew members, he said, were injured in the brutal beating they received from the pirates.
"A crewman told me that when they came to the boat they fire a shot and my brother jumped overboard. And them man seh, `oh you want jump overboard?' And they scramble him and pull he in their boat and beat him. The [crew] man seh after that, he hear one scream and they throw he overboard," Heeralall explained on Thursday.
He had also related that when his brother's boat came under attack, the pirates fired a warning shot and his brother jumped overboard.
The "hijackers came to them and fired a shot at their boat and meh brother jump and when he jump from the boat, the hijackers what had come in his boat called their partners and say, `ayo collect the man at the back' and the hijackers use them boat went and collect he," the brother had explained.
Recounting further what was told to him by the crewmembers, Heeralall had said after the pirates pulled his brother from the water, they placed him in their boat.
At this point, he said one of the pirates who was already in his brother's boat returned to his boat with the cutlass and said, "`bring am come leh me look after him', and they hear meh brother holler one time and the one time he holler they hear."
After hearing Hardeo scream, the crewmembers reported that they heard their attackers saying, "abbie done look after him." It was around this time they said Hardeo was thrown overboard.
The pirates then returned to the boat Hardeo and his crewmembers occupied and carted off 2 ½ barrels of gasoline, cellphones, a GPS tracking system and the crew's rations, before escaping.
According to Heeralall, he and his brother had been residing in Suriname for some years now with their immediate families. He noted that his brother has been a part of the fishing trade for approximately 15 years.
The attack came almost a week after the horrific one on four fishing boats in the vicinity of the Wia Wia bank in Suriname. It was reported that each fishing boat was occupied by five persons, comprising the captain and four fishermen.
Of the 20 crew members who came under attack then, five are known to have survived; four making it to shore soon after, and the fifth, being rescued on Wednesday.
Around the Web