The motion brought by the Opposition PPP/C calling on Government to state what actions it has taken to collaborate with the Government of Suriname on Guyanese fishermen brutally attacked and some murdered by pirates in Surinamese waters on April 27th, was unanimously supported in the National Assembly last evening.
Minister of Foreign Affairs Carl Greenidge, Minister of Public Security Khemraj Ramjattan and Minister of State Joseph Harmon all expressed support for the motion moved by Opposition MP Gail Teixeira as a motion of adjournment on a matter of definite urgent public importance. The motion did not require approval.
However, they disagreed with the wording of a recital paragraph, which referred to a meeting that Opposition Leader Bharrat Jagdeo had with the families of fishermen in Suriname, claiming that the Opposition was using the event for political mileage.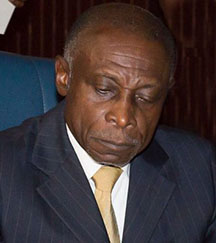 Responding to Teixeira's presentation in which she said Jagdeo visited Suriname and led a delegation that met with Guyanese on the ground who spoke passionately about the issues and it was unfortunate that Ramjattan did not do the same, Ramjattan said hers was "a crude, naked opportunistic speech."
He said that having been a former member of the Opposition People's Progressive Party, he was aware that they even use death to promote their political agenda.
Also contributing to the motion were Leader of the Opposition Jagdeo who could not resist contributing to the debate when Greenidge raised the 2008 Lindo Creek murders, and the massacres at Lusignan and Bartica and blamed them on him. Jagdeo contended that those committing the massacres during his tenure were supporters of the then Opposition PNC.
Contributing to the debate too was Opposition MP Clement Rohee.
Worst
In presenting the motion, Teixeira said the piracy attacks in recent weeks and the one on April 27 in Suriname was the worst in the recent history of the region and required an urgent response.
Government's response, she said, was one of silence and families of the Guyanese fishermen who were attacked and killed were shut out from information which Government could have assisted in providing.
She called for a collaborative response to the killings which she described as terrorist in nature, for measures to be put in place for a safe environment for fishermen, and for financial assistance to be given to those affected by the piracy.
She said that fishing last year contributed some US$99 million to the national economy to which Greenidge said the Guyanese fishermen in Suriname did not contribute to that sum and it was not relevant.
While the Guyanese fishermen who were attached were operating outside of Guyana's territory, Greenidge said, "We are satisfied that collaboration with the Surinamese Government is genuine."
Ramjattan, Greenidge and Harmon all said that Teixeira claiming that Guyana did not respond immediately was not true as Ramjattan had been in constant contact with the Surinamese Government from April 28 and the Guyana mission in Paramaribo had been meeting with families affected by the piracy.
Ramjattan said that he has also agreed to be in daily contact with the Surinamese authorities since April 28. He said Guyana has cleaned up piracy in its waters but the pirates  have moved to Suriname. Guyana, he said, cannot move into Suriname waters to provide security.
He said that when Suriname informed him that they were calling off the search he asked them not to and they intensified the search.
In an overview of the actions Government had been taking since the events took place, he said that based on information from Suriname and in Guyana, the killing were related to reprisals and revenge. To date 14 people have been arrested and 12 remain in custody.
He said that two arrested have admitted to being paid for the revenge killings of a pirate, Manohar, in a drive-by shooting. The son of the pirate has also been arrested.
Ramjattan said he had also offered to equip the fishermen with firearms and transponders but they rejected them fearing that if the pirates knew they were armed they would attack them. He said they also refused the transponders of which the cheapest was in the sum of $100,000. He will once again raise the issue of providing the transponders to them on a hire purchase basis.
Meanwhile, Jagdeo said he was appalled by Greenidge who said that fishermen might not have wanted transponders because they may not want to be tracked because they may also be involved in illegal activities. It seemed, he said, that Government MPs were on an all-out attack on people.
Suriname's Parliament has debated a similar motion on piracy in the wake of the April 27th attack which President David Granger labelled as a "massacre".
Around the Web