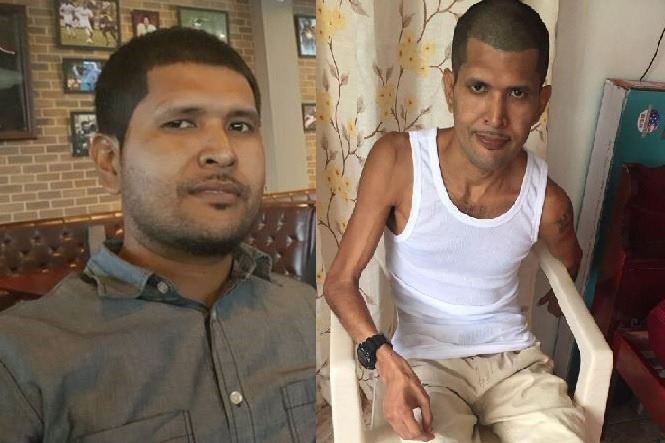 The family of former sports journalist Rene Stoby has embarked on a journey to raise money for a much needed medical visit to identify a mystery illness that has since stripped him of his ability to speak and to walk.
Rene, who has been described by many as "jovial soul" has for the past two years been battling a mysterious illness which has severely affected his ability to speak and walk.
Sunday Stabroek understands that the ordeal began when Rene started experiencing muscle spasms which initially slowed down his mobility and affected his speech. These spasms were said to have been extremely painful and affected his left arm which started to fixate in an almost right angle position.
It was noted that doctors were baffled by Rene's condition, but subsequently diagnosed the condition as Parkinson's disease, Dysphagia, Hypophonia, and then ALS or Lou Gehrig's disease.
However, in July 2017, Rene was seen by doctors at Montefiore Medical Center in New York and after two weeks of testing and medical observation both Parkinson's disease and ALS were ruled out. The medical experts were still not able to make a specific diagnosis even as Dystonia was suspected.
Sunday Stabroek understands that Rene has since lost the ability to walk properly on his own, has completely lost the use of his left arm, and his speech is now completely gone.
He still maintains cognitive brain functions and is able to communicate via text and WhatsApp messages. Nevertheless, his condition continues to deteriorate, worrying his family more with each passing day.
"We fear the worst…He is more worried about his six year-old son, who amazingly has been so loving to his dad despite seeing him in that condition," his older brother Reuben Stoby wrote on the GoFund Me page that he has set up.
The page, has been set up in hopes of raising the necessary funds to have his brother be seen by specialists at the John Hopkins Hospital in Maryland, USA  who have expressed a willingness to see him and possibly come up with a diagnosis/treatment.
"We have been in communication with John Hopkins Hospital in, USA, and they have expressed a willingness to see him and possibly come up with a diagnosis/treatment. The costs for initial consultations with the ALS and Movement Disorders teams and initial tests will be around US$10, 000," the older Stoby wrote.
"We pray that you find it in your heart to help this young man come up with the required initial amount to get the urgent medical attention required to possibly return his good health and jovial personality. His family, friends, and most importantly, his 6-year-old son Xavier, will be most grateful for any assistance rendered to help him reach his target," he added.
Rene has in the past been employed at the National Communications Network and the Guyana Times Newspaper.
Persons interested in making a donation can do so by donating directly to the GoFundMe account online at https://www.gofundme.com/raising-for-rene or Republic Bank Account: 515-975-1.
For further information, persons are asked to call: 592-697-8322 or 592-663-2918.
Around the Web