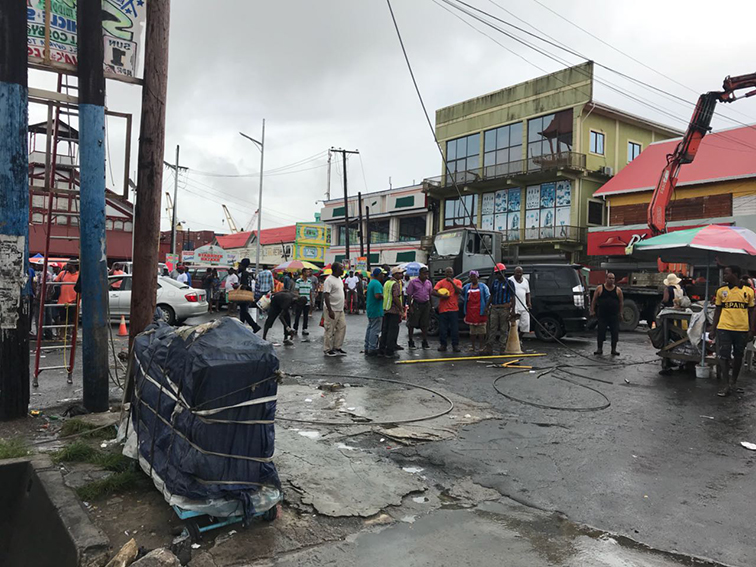 A Guyana Power and Light (GPL) linesman was yesterday morning rushed to the Georgetown Public Hospital after he was shocked when he came into contact with a live wire in the vicinity of Demico House, Stabroek.
The injured worker has been identified as Nara Singh, 34, of Garden of Eden, East Bank Demerara.
At the time of the accident,  GPL maintenance workers were replacing old power poles.
Stabroek News was told that the incident occurred sometime around 11.40 am, when Singh unknowingly picked up a live wire. Eyewitnesses say that they heard a buzzing sound and before they knew it Singh was lying motionless on the ground.
This newspaper was told that after coming into contact with the wire he was tossed at least three feet away from the point of impact.
He was then picked up by his co-workers,  placed in a Kitty/Campbellville bus and rushed to the hospital, where he remains a patient.
The extent of his injuries remains unknown.
"I don't know how to explain it because it was so fast. The crew came here around 10 am, and started doing work. He (Singh) was here walking and rolling out the wire to take it across the street and all we hear was this buzzing and by time we look around we see he lying on the road," an eyewitness explained to this newspaper.
The eyewitness, however, noted that at the time, Singh was clothed in protective gear.
Singh's shocking comes weeks after a similar industrial accident involving a Guyana Telephone and Telegraph Company technician.
The technician, David Kunath was shocked in February and after spending more than two months in the hospital he succumbed a day after being released.
Kunath, on February 14th, came into contact with a GPL transformer, resulting in him being pitched from the pole he was working on at New Garden Street, Queenstown, Georgetown.
As a result, he sustained severe second and third degree burns to his upper body. He had also suffered a number of fractures about his body and was bleeding in his brain.
Around the Web