In the aftermath of the questioning of investment deals struck years ago and charges against former officials over them, several investors mulling major agreements here have begun expressing reservations that these may not be upheld if the government changes.
The concerns of the persons that Stabroek News spoke to stem from recent developments which suggest that as governments change there can be a "politicising" of business investments.
With trepidation about the future potential implications of contracts entered into, at least three banks and two regional conglomerates have now turned to their legal analysts to provide information before committing to investing here, sources say.
"You have Wales Estate investors telling government that they want to pull out because they are not totally sure that down the line questions would not be raised about their investments. People are concerned and this does not bode well for the economy and country," one source told the Stabroek News.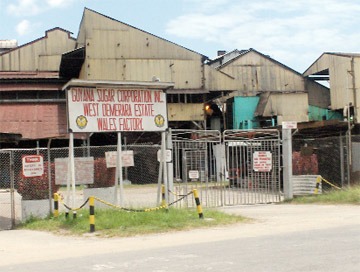 Additionally, another source informed that bankers of the Republic Bank (Guyana)-led syndicate of local and regional banks, which will provide $30B to GuySuCo in bonds for the revitalisation of its remaining sugar estates, have also voiced their concerns.
The source also alluded to the recent charges against former Head of NICIL Winston Brassington and former Minister of Finance Ashni Singh, who are both accused of misconduct in public office.
"The charges against the two government officials were from deals that businesses entered into with NICIL. Now GuySuCo's $30B is also coming through NICIL, through its Special Purposes Unit, how do we know that if this government changes tomorrow, that contract will be honoured? We are given no surety, yet there are complaints that the interest rate is too high?" another source stated. 
This newspaper reached out to Minister of Finance Winston Jordan for comment on the issue. His Ministry's Public Relations Officer, Wanita Huburn, said that he was forwarded the email sent. There has been no response.
Banks DIH, ANSA McAL of Trinidad and Tobago, and the GraceKennedy Group of Jamaica, have expressed interest in the acquisition of the now defunct Wales Estate. This newspaper understands that the companies have similar plans for the estate—investing in the planting of crops and their processing, mostly for export.
Months after the APNU+AFC government ascended to office, it announced the restructuring of the Guyana Sugar Corporation, which it said had become unprofitable in its then form.
Wales was closed at the end of 2016 and government later established a Special Purpose Unit (SPU) within the state holding company, NICIL, to spearhead the divestment and privatisation of certain GuySuCo assets.
Additionally, PricewaterhouseCoopers (PwC), which was contracted by the SPU, last year began doing valuations of the assets of GuySuCo in order to better inform prospective investors.
This newspaper understands that it is especially investments coming out of NICIL that have investors agitated and questioning the sanctity of contracts.
While the issue of contract validity and its implications when governments change have always been discussed, financial experts say that in wake of the charges brought against Dr. Singh and Brassington, that issue has been brought forcefully to the fore.
"The recent charges against former Minister Ashni Singh and former Head of NICIL, Winston Brassington, followed by the counter charges by Anil Nandlall against Government ministers, suggests that all Government officials are potentially `radio-active.'  If any action, a technocrat or policymaker takes, puts that person at legal risk for personal criminal charges, it will scare both the Government official and the private sector counterpart to stay away," one regional investor, who requested anonymity, told this newspaper. 
"This SOCU contagion is of great concern—the private sector has strongly opposed the SARA bill with ongoing legal battles.  The entire board of GBTI is before the Court on criminal charges of contempt brought by SOCU. This climate does not bode well for investor confidence since companies investing in legitimate business transactions in Guyana will not want their transaction with a previous administration come under the microscope with a change of government, for reasons that appear to be more related to politics than the law," the investor added.
Singh and Brassington were jointly charged with three counts of misconduct in public office over the sale of three tracts of government land on the East Coast of Demerara, between December, 2008 and May, 2011. They have since appeared in court and have been placed on bail.
In one instance, it is alleged that the property was sold below market value, while in the other two the deals went ahead without proper valuations of the land.
The charges stem from criminal investigations conducted by SOCU into the findings of a forensic audit of NICIL.
It is alleged that Singh and Brassington sold a tract of land, being 4.7 acres at Plantation Liliendaal, East Coast Demerara, which was the property of Guyana, for the sum of $150 million to Scady Business Corporation, while knowing that the property was valued at $340 million by Rodrigues Architects Limited.
It is also alleged that by way of agreement of sale and purchase, they acted recklessly when they sold a tract of land, which was a portion of Plantation Liliendaal, Pattensen and Turkeyen, East Coast Demerara, being 103.88 acres, to National Hardware Guyana Limited for $598,659,398 (VAT exclusive), without having a valuation of the property from a competent valuation officer.
It was also alleged that they acted recklessly when they sold a 10-acre tract of land at Plantation Turkeyen, which was the property of Guyana, for the sum of $185,037,000 to Multicinemas Guyana Inc., without procuring a valuation of the said property from a competent valuation officer.
Shivers
Asked what they believe can be done to assuage the concerns of business persons and financiers, one analyst posited, "The Government should return SOCU to the institution it was supposed to be—focused on managing the AML (Anti-Money Laundering) risk and not use it as a political tool since if this climate continues, investors will be looking away from Guyana."
Much of what was said by regional investors has been echoed by the local business community. "While politicians don't outlive business, changes in government can impact businesses and that is a fact," one businessman posited.
"I certainly do not totally understand the background nor the reason for the charges specifically. But they are not being accused of stealing anything for personal gain. Winston was not a policymaker. He is a bureaucrat that was instructed to execute instructions. Ashni operated as well with the concurrence of the cabinet. So I am baffled. Notwithstanding, encouraging investors and fostering investor confidence was the hallmark of their works, when I look at MovieTowne as an investment, it is a wow investment! I would have given them the land free as an incentive. They surprisingly paid market value for that land," another said.
"If you observe the infrastructure development that National Hardware injected into those lands that was just swamp and cane fields. See the quality homes constructed there. National Hardware won a public tender for that land. These actions will most certainly send shivers down the spines of investors. Investor dollars are like water. It follows and takes the path of least resistance. Countries that are trying to encourage investors, need to create the enabling environment while fostering investor confidence in the validity of contracts and clearing away the bottlenecks and the easy way of doing business in Guyana. We are concerned who is next. There seems to be no reason. Just pick a name," he added
Around the Web