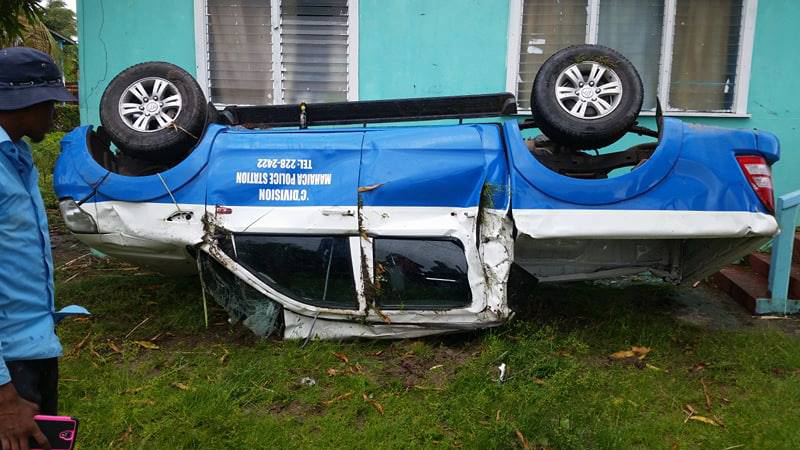 Police Commissioner (ag) David Ramnarine has ordered a thorough investigation into an accident that left three ranks nursing injuries and one of the force's vehicle "extensively" damaged early yesterday morning.
The accident occurred around 8.15 am along the De Hoop Public Road, Mahaica, East Coast Demerara.
Constable 20992 Wellon Carr, Corporal 20350 Fraser and Constable 24502 Leroy Stewart all sustained injuries.
They were taken to the Mahaicony Cottage Hospital, where they were treated before being discharged.
The force vehicle, a Foton Tunland pick-up, PWW 5411, was among the vehicles recently donated by the Chinese government.
At the time of the accident, the vehicle was driven by Constable Carr. The ranks were on patrol duty under the command of Corporal Fraser.
Stabroek News was told that Constable Carr was proceeding west along the southern side of the public road when he observed a cow walking from south to north. Upon noticing the cow, Carr reportedly swerved to the north in order to avoid a collision before swerving back south.
As a result, he lost control of the vehicle, which skid off the road and toppled before colliding into the front of a house located at Lot 7 De Hoop, Mahaica.
The current occupant of the property was not at home at the time.
The ranks sustained injuries about their bodies and were picked up and taken to the hospital.
A breathalyser test was conducted on Constable Carr which revealed that his alcohol level was zero.
The wrecked vehicle is presently lodged at the Cove and John police station compound to be examined.
Around the Web