Cartons of expired goods were seized from stalls in the Stabroek Bazaar during a raid yesterday afternoon by the city's Food Safety Department (FSD).
The raid, which began shortly after 1 pm, saw workers from the FSD and the market's revenue collection department conducting inspections for expired goods being sold for human consumption.
The teams were led by acting Chief Meat and Food Inspector Oneika Blackman and Assistant Chief Meat and Food Inspector Abiola Baker.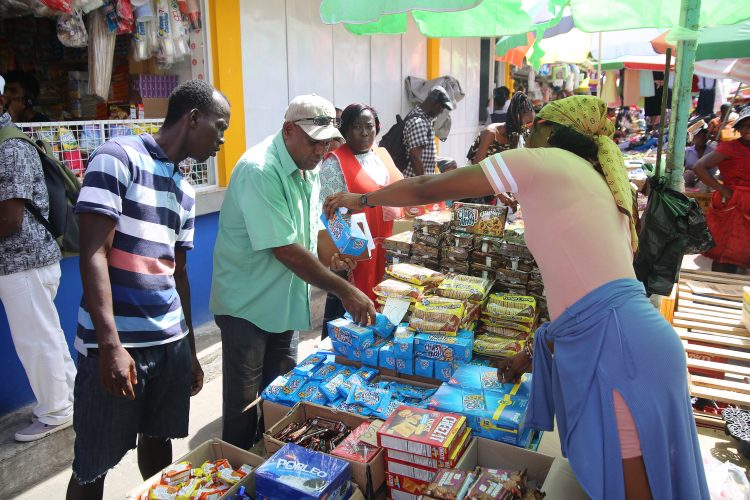 Blackman, during a brief interview, deemed the exercise successful, judging from the amount of consumables that were seized.
She noted that the quantity of consumables confiscated was alarming and a cause for concern. "It is a large quantity and consumers need to be alert as to what they are buying and check the dates on packages," she said.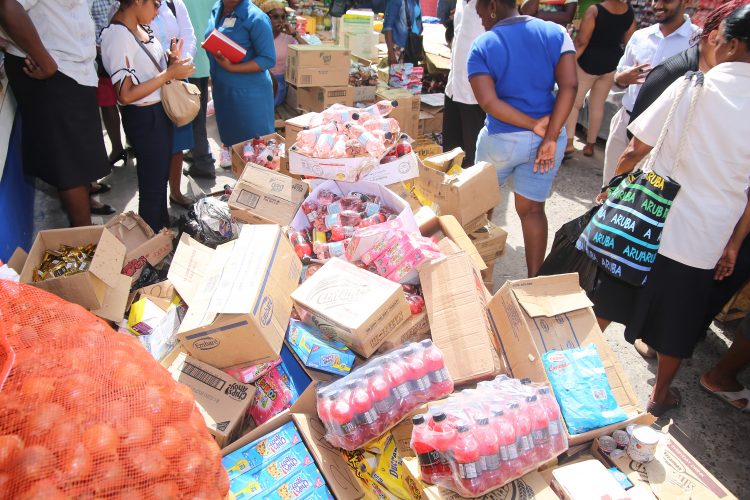 Blackman pointed out that consumers should pay attention to their health as consuming expired goods can result in health complications.
While the focus was on expired goods, Blackman disclosed that they also removed items that were not labelled in English.
In addition, Baker noted the number of items being sold after their expiry date and said that the majority were confectionary goods.
"We found a variety of items, mostly confectioneries, being sold after shelf life. Biscuits, juices, drinks, milk and candies," she related, while noting that some had expired since October, 2017.
She added they found items where the expiry dates were wiped off and still being retailed.
Baker also pointed out that apart from the expiry dates, the inspectors were also checking the storage conditions. 
Throughout the raid, vendors cooperated. However, they said consumers who cannot afford to pay the full price for a product not yet expired are more likely to purchase expired ones. "These people does come and buy because they can get two biscuits for $60 rather than getting one. It is because the items are cheap were are selling it," a vendor said.
As the raid was taking place, Stabroek News observed a consumer purchasing six bottles of ketchup that were close to expiration.
According to the vendor, the buyers do not return and complain of illness after consuming the expired items.
"These items have a three month after [shelf] life and that is why we are still selling them. We wouldn't be selling them if we weren't getting customers," she reasoned.
The vendors further pointed out that the inspection team should visit the bonds and large supermarkets for expired goods.
Responding to this suggestion, Blackman said that they do visit supermarkets but they never discover expired goods on the shelves.
Both inspectors indicated that they would be conducting the raids as frequently as possible to curb the sale of expired goods to consumers.
Around the Web