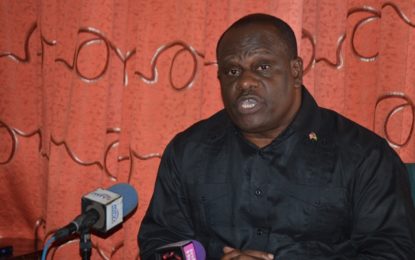 The Georgetown municipality stands to lose at least $6 million in annual earnings from the licensing of eating houses if the government's proposed Food Safety Bill is passed in its current form, Town Clerk Royston King has warned.
King had indicated to Mayor Patricia Chase-Green at the May 28th statutory meeting that the City Council should look into having the bill, which is currently being reviewed by a parliamentary select committee, amended so that the city's operations are not negatively affected.
Responding to questions from this newspaper at a press conference last Friday, King further explained that sections 43 to 52 of the bill make provisions for food business and if enacted they will render by-laws that grant the city the power to license "eating houses" and "street selling" invalid. He said the Food Safety Authority, which would be created by the new law, would be performing functions in direct conflict with those performed by the city's Medical Officer of Health and because there can be no duplication of licensing authorities the city will have to stop licensing and collecting the fees for the service.
King has therefore advised that the council request that the Special Select Committee presently reviewing the bill allow for an amendment to provide an exemption for "eating houses" and "street selling" in Georgetown.
He noted that for 2016 to 2017, the council collected $12,469,387 million in registration and licensing fees from eating houses. He noted that the revenue has been used to provide training for Environmental Assistants, to maintain the Municipal Abattoir and to police and enforce compliance with the by-laws and regulations governing storage, processing and preparation of meat, foods and beverages for consumption within Georgetown. 
The Food Safety Bill 2016 was laid in the National Assembly in November of that year. It provides for the creation of the Food Safety Authority, which would oversee the control of the production, handling, storage, and transportation of food, and regulate the system of food safety in Guyana.
The bill also seeks to consolidate the various inspectorates related to food safety, such as the Food and Drug, Plant Health and Animal Health departments into one authority.
Around the Web