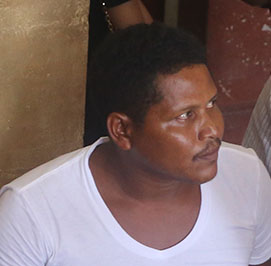 A husband and wife and a businesswoman were yesterday all charged with trafficking Venezuelan nationals for sexual exploitation.
It was alleged that between November 1st and December 31st, 2017, Lawrence Williams recruited, transported and harboured three Venezuelan nationals for sexual exploitation.
His wife, June Williams, was also charged with recruiting, transporting and harbouring three Venezuelan women for sexual exploitation between April 1st and 30th, 2018, at Itaki, Mazaruni.
Additionally, businesswoman Arita Gould also faced a charge for trafficking a Venezuelan woman. The charge alleged that Gould, between May 1st and May 31st, 2018, trafficked a Venezuelan national at Itaki, Mazaruni.
The husband and wife are the owners of the hotel where the women were all allegedly being held.
The accused were not required to plead to the indictable charges, which were read by Chief Magistrate Ann McLennan during in-camera proceedings at the Georgetown Magistrate's Court 1.
All three of the accused were remanded to prison and the matters were adjourned until July 5th, when they will be heard at the Bartica Magistrate's Court.  
Around the Web