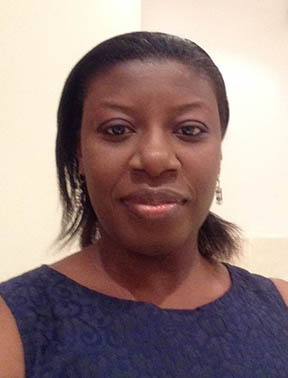 There is no doubt that it was the love of it that kept Country Manager of World Wildlife Fund Guianas (WWF) Aiesha Williams in the field of biodiversity and conservation. Her dedication has not only paid off in her being given a chance to explore Guyana while being paid, but she has now been awarded the Golden Arrow of Achievement, for which she justifiably proud.
"I believe that it doesn't make sense to just work for a dollar or so… Of course, sometimes it boils down to that but when you can work and make a dollar yes but also enjoy what you do, love what you do, I think that is a more enhancing way of living…," she said, when asked what has kept her in the conservation field for all of her working life.
She has been working in the field since she graduated from the University of Guyana  (UG) in 2000 and declared, "I love it."  It was while exploring the country's forest and walking on a muddy trail called a road and waking up early in the morning looking for animals as part of doing population surveys and monitoring that Williams experienced the final pull in the direction of the job that became a career she is in love with.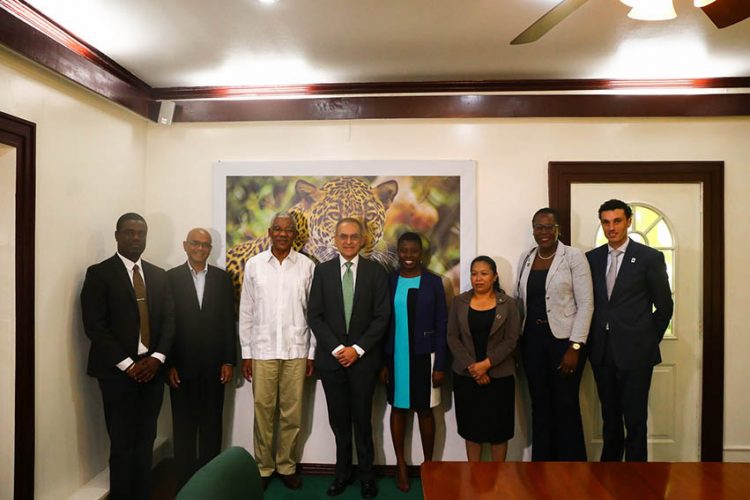 "I was very surprised but pleased at the same time because it's an honour to be seen and identified by those within our country that make decisions at this level in terms of identifying strong, important contributors to the country's development and especially in my field…," Williams told the Sunday Stabroek during a sit down.
She received the award for long service within her field of work which is conservation of natural resources, environment related.
When it was pointed out that she no longer traverses the fields as her portfolio is now more office-oriented, Williams noted that she has had that experience and she loved it and when she wants to she can go out occasionally, "if I want to get my feet wet again. But being in this position really helps me to make a different level of impact, a different level of input into how the office is run, how the office really does conservation work in Guyana, how others in the office can have that experience that I have had…"
She added that it is not only the office staff she can impact but also young volunteers and UG students who come for support.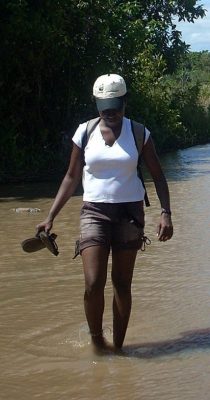 She pointed out that she can also have interaction with the President or ministers on her experience and from the office's point of view on how they see conservation in Guyana and how that could be done together in a country like ours moving towards development and maintaining what it has in terms of natural resources.
"It is possible," she said referring to Guyana moving towards development and maintaining the natural resources adding, "That is where I see my role and I enjoy that and I can't do that at the level of a field assistant."
When she started her UG life, Williams said, she did not think about her current field of work and actually studied biology. She had initially applied to study nursing, but the acceptance letter came at the same time she was accepted into university and while she said she was unsure as to why she considered nursing, she revealed that her mother is a nurse.
"It is science-related, and I thought I could have been a good nurse. I think not, now thinking about it," she said with a laugh, adding that she chose university over nursing because she saw the degree as a higher calling. And studying biology gave her some time to decide what direction her career would have taken, while nursing would have restricted her to one option.
She loved natural sciences and during her years of study she met local and overseas lecturers who were strong on the field aspect of science, natural resource management and research and wildlife.
"So that really encouraged me to look into this field more and actually during that time at UG, I got to go out into the field," she shared. She still remembers her first major field trip which was to Iwokrama and how the experience concretized the direction her career took.
After graduation her first job was actually on a project Iwokrama was implementing that dealt with the wildlife trade and at that time it was supported by WWF. The project allowed her to travel around Guyana meeting trappers and community members, traders and exporters who worked in the trade and it also allowed her to see Guyana the way many persons have not.
She continued on at Iwokrama for five years after that project and in 2005 she furthered her studies at the University of Kent where she did conservation tourism because she did not want to focus strictly on science, but to understand the other aspects. Williams said she wanted to comprehend how biodiversity and natural resources can contribute to people's livelihoods or development. 
She returned to Guyana and has been working at WWF in various posts, starting off as a wildlife field officer, and her scope of work would have once again taken her to many different areas of the country.
Now that she heads the Georgetown office, Williams's scope of work has expanded greatly as she now has the operational and administrative portfolios along with the conservation aspect of the office to manage.
Williams said her exposure over the years in terms of natural resource management and conservation really prepared her for the position she now holds even though she admitted that the operation side of her job was new to her. She now gives oversight to the office's programme in Guyana and she supervises staff members, gives guidance and makes input from a "pretty knowledgeable standpoint" because she walked that road before. Her work has also expanded into interfacing with the government and also officials overseas such as other conservation directors and they strategically plan and implement good conservation practices in their offices.
High mountains
Talking about her experience in the fields, Williams shared that apart from muddy trails she has also struggled up some high mountains, been chased by a swarm of bees and traversed many of the country's rivers. The latter would have seen her disembarking from the boats and helping to pull them over certain areas in the river and even helping to lift the boat at some points.
"The best part, I think, is going around Guyana in so many different communities and meeting people, making friends and some would see you years after and remember you because you had a good connection at the time," she shared.
She noted that those experiences, coupled with seeing so many parts of Guyana, are valuable.
"So, when you experience something like that, you love it," she said again about her career choice.
When it was pointed out that some women would have been turned off by the first muddy experience, Williams exclaimed, "Nooo!" She continued that while she likes to "dress up and look pretty" at the same time she loves to "drop all of that and enjoy new things, learn and explore, meeting new people."
She also got the opportunity to share what Guyana really is with persons outside of Guyana, some of whom did not know about the country and because of her experiences Williams was and is well equipped to sell her country.
"I love meeting people and exploring so working in the field really helped," she said.
Right direction
Asked where Guyana is in terms of conservation, Williams said that the country is going in the right direction.
"We have always been mindful and really conscious that we are a rich country…," she said adding that this goes back to the late president Desmond Hoyte committing Iwokrama to the world as a model, to former president Bharrat Jagdeo's drive in the low carbon development strategy and President David Granger talking about additional hectares in Guyana for conservation and wanting to ensure that the country's natural patrimony is maintained for generations to come.
"[For] all these things we are known and even with oil coming on stream, I think we are still known as a rich country. How we secure this richness is very important in getting right and continuing to believe and understand that the richness needs to be maintained not just for this current generation but for several generations to come and that's what we really need to concentrate on," she added.
But while the country is on the right path, she stressed that there is still a lot to do.
Williams is a mother of one daughter and she comes from a large loving family. She also loves sharing with friends and "taking quality time with those I love and who love me."
Around the Web