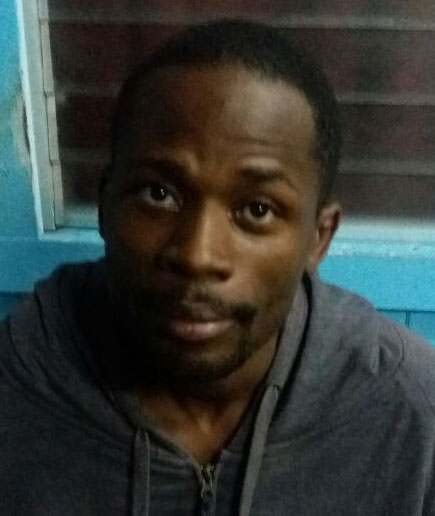 Stafrei Alexander was yesterday afternoon handed a life sentence by Justice Sandil Kissoon following a jury's finding that he was guilty of attempting to murder Curtis Thom, whom he shot back in 2015.
After about two hours of deliberations, the 12-member mixed jury returned with an 11 to 1 majority verdict, convicting Alexander, 35, for shooting Thom several times on the morning of March 23rd, 2015, at the man's 138 Laing Avenue, Georgetown home.
His attorney, Stanley Moore, had requested that sentencing be deferred to facilitate the preparation and presentation of a probation report.
It was at this point, however, that Prosecutor Lisa Cave indicated to the court that there had already been such a report on file. She explained that it was recent—dated November 17th, 2017.
Cave explained that the report had been prepared for presentation at the conclusion of Alexander's first trial for the offence, at which the court in October of last year had erroneously accepted a verdict which should have been declared a hung jury.
At that time, Justice Brassington Reynolds, who presided over that trial, had deferred sentencing pending the probation report being presented, which Moore had requested then as well.
The report could not, however, be presented as Justice Reynolds had to declare a hung jury and order a retrial. Given the  manner in which events had unfolded at that stage, Moore explained to Justice Kissoon yesterday that he had never been given a copy of the probation report as it was never eventually tendered to the court.
Yesterday's proceedings were then stood down for Moore to have an opportunity to read the document. It indicated that Alexander had a troubled childhood which saw his parents separating when he was at a tender age. According to the report, in his early teens the convict was also forced to care for two young siblings and there were dire economic circumstances facing the family at the time.
It was against this background that Moore begged the court for mercy. Cave, however, asked the judge for a strict penalty, while citing the nature and prevalence of the offence and the fact that a gun had been used in the commission of the crime.
She asked the court, too, to consider that Alexander had escaped after committing the offence and was not found until eight months after. Added to this, she said he had escaped from prison while awaiting trial.
For this offence, Cave said that Alexander had been convicted and was sentenced to two years behind bars.
The court was also informed that the convict has additional pending charges of murder against him.
After listening to both sides, Justice Kissoon informed a visibly-shocked Alexander that he would be sentenced to life imprisonment.
Moore, who seemed equally shocked by the sentence, sought to press the judge to invoke his discretion in setting the sentence. However, Justice Kissoon, who acknowledged that he did have a discretion to so do, informed that the sentence would stand as life imprisonment and he advised counsel that he can make his application before the correct forum—that being in an appeal. The judge said that while life imprisonment is not mandatory, the law provides for the penalty for convictions for attempted murder.
The state's case against Alexander was that on the day in question, he shot Thom in his side and back. Thom was subsequently rushed by his wife to the Georgetown Public Hospital, where he was admitted as a patient for some seven weeks.
Around the Web