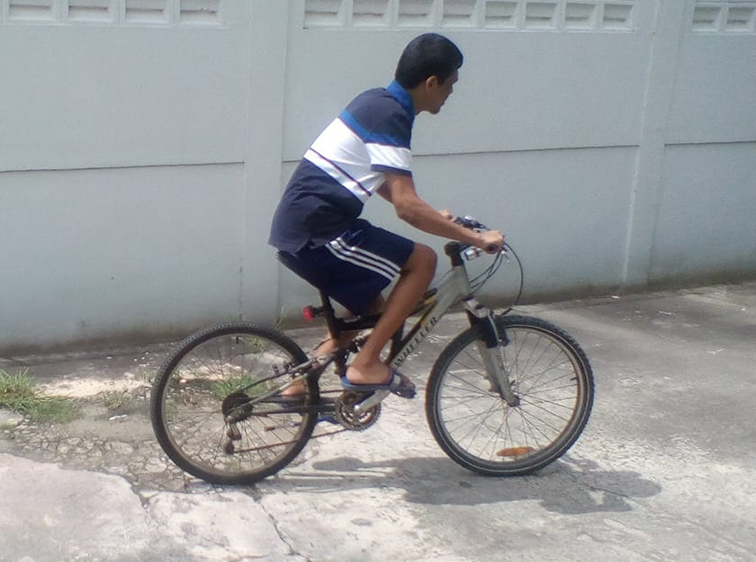 If you were to meet Gopaul Etwaroo today, you might be forgiven for thinking he's an exceptionally tall primary school student somewhere between the ages of 8 and 10, with the lust for life of someone that age.
In reality, he is at least 20-years-old and just two months ago he was rescued from the pig pen in which his father and step-mother had allegedly kept him for a decade.
Gopaul had been found naked in the padlocked enclosure, which was too low for him to even stand. He relieved himself in a trough, slept on a bench constructed from wooden planks and ate from what was provided in recycled bleach bottles.
His stepmother, Parbattie Sukhu, had claimed that she and her husband were forced to place Gopaul in that space because he was destroying household items. She also claimed that he was kept naked because he refused to wear clothes.
However, those who have had the care of Gopaul for the last two months have not observed any such behaviour. He has vastly improved due to the dedicated care of staff but his rehabilitation is being threatened as the Guyana Women Miners Organisa-tion (GWMO) begins to find it difficult to pay the $80,000 a week they are being charged.
President of GWMO Unica Primus, who led the rescue operations, explain-ed to Sunday Stabroek that immediately after he was removed from the enclosure, Gopaul was keen to get and stay clean.
"[He] doesn't break anything, tends to clean like he's OCD. One time he was at the hospital and tore his shirt during a therapy session. When he caught himself, he was ashamed and did everything to ensure that no one saw his chest," she told this newspaper recently.
Staff at the home where he is being kept indicated that when he first arrived he would lash out if he recognized he had done something wrong.
"He used to try hitting you if he had done something wrong. He seemed determined to make you afraid of him before you could do anything but doc took him to the gym and give him the bag to punch and he doesn't do that anymore," one staff member explained.
Primus has become Gopaul's favourite person.
On a visit to the home where he is being cared for, Sunday Stabroek was greeted with a ready smile and polite welcome but it was clear that he was most happy to see Primus, who was treated to a hearty handshake.
The young man is still hesitant to touch and be touched but he has come a long way from constant night terrors and his fear of showers.
It was Primus and other members of the GWMO who held his hands through those first nights when he was nearly catatonic with fear.
Like any good host, he leads the visiting group to a set of chairs and sets out to entertain. The GWMO members are invited to play a game of catch with a large beach ball. Primus is not very good in the beginning but soon improves and Gopaul lets her know her efforts are "very good". The other participant, Reisa Roberts, is similarly encouraged.
All this is part of his therapy, his caretakers explain.
The small space in which he was kept has caused some of his muscles to be underdeveloped and he has had to be medicated so that he can properly balance his body as he walks. Games, such as 'catch,' help develop those muscles as do his daily gym exercises.
Primus explains that at his last checkup at the Georgetown Hospital, doctors noted that he was having difficulty turning to his side, so she aims just a little off-centre with each return of the ball. Gopaul has no problem keeping up; it seems that the weakness he displayed when being examined is temporary.
One of the issues the team is facing in their quest to rehabilitate the abused young man, is that he is only truly comfortable at "home".
The GPHC staff has recorded him as regressing because on his last visit, he refused to socialise and submit to the examination with the same level of compliance as previous visits.
"On a previous visit he was able to interact for two hours with staff but on his last visit he wasn't having any of it," Primus explained.
At "home" he is very independent, able to use the toilet and shower all by himself. He can clean his room and make his bed, wash the dishes and even pick up and fold his own laundry.
Staff shared the story of how after days of rain they had forgotten that laundry was on the line outside but after asking to be let outside, Gopaul returned with the clothes in his arms.
These small victories encourage the GWMO. As Gopaul takes out his bicycle and rides around the yard, it seems that those caring for him are enjoying this success even more than he is.
They clearly remember the malnourished, traumatised young man who first arrived.
"We couldn't even brush his teeth; his gums would bleed, he was unable to control his bowel movements and so was forced to wear a diaper," they explained. He has gone from a mere 94 lbs to just about 105 lbs and no longer parrots whatever is said to him.
He has been having simple conversations, though his language skills seem to be languishing behind his motor skills. Importantly, he is able to use the words yes and no appropriately and can say what he likes or doesn't like.
He likes fried rice, specifically "Chinese fried rice", and his caretakers shared another story of when their version of the dish did not meet his approval. 
His academic work has also improved. Sunday Stabroek was able to observe a simple session where Gopaul identified different colours and counted but he clearly was not pleased that his holiday (Sunday) was being interrupted by school work.
He was more keen on playing the drum for his guest. Staff indicated that he is also learning to play the steel pan and loves making music.
"He knows a lot but on different days, when he's in different moods, you get [a] different amount out of him. I thought he could only count to 10 but he counts to 20 when he's alone and when [we're] in the gym he counts to 100 sometimes. He likes physical activity, such as gym, playing with the ball, fixing puzzles, playing the drum and the steel pan. He loves music," they shared. 
As happy as his improvement makes those involved in his care, they are terrified they will soon have to turn him over to authorities who have never reached out to learn about the clearly abused young man.
"The Ministry of Social Protection has never called about him. The police reach out but the only welfare officer we have dealt with is the one at the hospital when he was first admitted," Primus told Sunday Stabroek.
No charges have been filed against his father and step mother as the police are currently awaiting advice from the Director of Public Prosecutions and his grandmother and mother, who had reached out to Sunday Stabroek and GWMO, have still not visited him though they promised to.
For now, GWMO is bearing the entire cost of his care. Primus indicated that the home has reduced its usual fee of $100,000 a week to $80,000, but GWMO still cannot continue to pay such a sum and is reaching out to the public for help in meeting the cost of his care.  
Around the Web