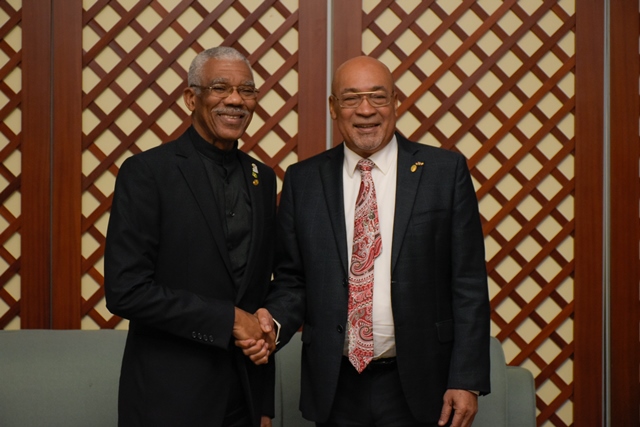 President David Granger on Friday met with his Surinamese counterpart, Desi Bouterse and the two leaders discussed the piracy attacks off Suriname on April 27th that killed at least four Guyanese and left another dozen missing and presumed dead.
According to the Department of Public Information (DPI), the two met on the sidelines of the 39th Regular Meeting of the Conference of Heads of Government of CARICOM in Jamaica which concluded on Friday.
"Whenever we meet we try to speak. Unfortunately, because of various reasons I have been travelling quite a lot and we have not been able to have our regular meeting, so we are just reviewing the changing situation in the Caribbean and also on the continent of South America," President Granger told DPI.
He said that the meeting also allowed for the two neighbouring presidents to plan for future engagements and identify matters to be discussed.
"In a sense, we're setting the agenda for a further meeting between President Bouterse and myself. So, it's an agenda setting meeting and at the same time it's a review of certain developments which have taken place since our last meeting." Security matters, such as piracy, were discussed, DPI said, and the two Heads of State have agreed to work to find short to long-term solutions.
"As a matter of urgency, you know we have the security problem affecting the fishermen and we are looking to deal with issues which could be resolved in the short and (medium) term to ensure that there is no lawlessness as occurred in April,"  Granger said.
Around the Web