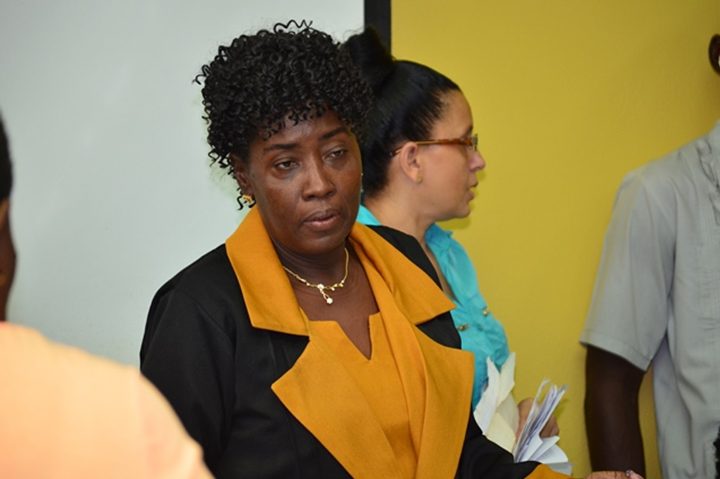 The Central Housing and Planning Authority (CH&PA) has won two cases against errant land developers, Minister within the Ministry of Communities Valerie Patterson related, even as she lamented that many persons have been waiting years for a house lot allocation, while developers leave acres unattended.
"We have a number of applications and some of the developers have the lands still there and nothing was done. Some are seeking to resell and some have already done that. We cannot encourage that because the purpose in giving them it was to assist for providing housing," Patterson told Stabroek News on the sidelines of Parliament on Thursday.
"We have gotten judgment on two of them recently and I don't want to give the names," she added, as she explained that the Chief Executive Officer (CEO) of CH&PA, Lelon Saul, has that information and would elaborate.
This newspaper was unable to ascertain who the two developers are as Saul's office promised to check with their legal team and get back to the newspaper today.
Patterson said that when the ministry partnered with the developers, it was to bring affordable housing to Guyana's citizenry because CH&PA was not financially capable of undertaking all the infrastructural works needed to make the lands livable.
"We have lots of land that were sold to developers; some never paid, some made part payments, some paid in full. There is an agreement they signed and these lands were given to them for housing projects. The reason being is because of the number of live applications we had and could not do it all. CH&PA cannot [provide] serviced lots and houses for all of the people, so they partnered with these developers, who I am sure we thought would have made the houses available. But they have the lands there doing nothing on them," Patterson said.
She said that Saul has been actively engaging with developers and discussing their terms of agreements while also working to track down others. "I know that the CEO is involved, he has meetings and so on with some of them …and he has the details of where we are," she added.
Last October, Saul had told this newspaper that CH&PA would file court cases against those persons who were sold swathes of land on the East Bank Demerara corridor but never developed them.
However, he had declined to give the names of any of the persons.
"…before the year ends you will see the agency taking several defaulters (developers) to court; those who have failed to deliver on their promises", he had said.
Saul had stated that he had written to several of the defaulting developers and subsequently held meetings with them. Some, he informed, have indicated that they are faced with challenges. He said that he has indicated the CH&PA's willingness to work with those developers to overcome whatever challenges they are faced with.
Besides the 100 acres sold to Brian Tiwarie's BK International Inc (Sunset Lakes Inc), 50 acres were sold to Buddy's Housing Development, 14 to Dax Contracting Service Incorporated, 25 to Nabi Construction Incorporated, 50 to Cumberland Developers Inc., 25 to Vikab Engineering Consultants Ltd, and 28.8 acres went to Luxury Realty Inc.
All of those lands are located at Providence and were bought in 2011 with the exception of Luxury Realty Inc., which purchased its lands in 2013.
According to documentation seen by this newspaper, 25 acres in the Peter's Hall area were sold to Kishan Bacchus Construction, while 50 acres of land were sold in the same area to Caricom General Insurance Company Inc, which purchased an additional 25 acres in 2014.
Navigant Builders Inc. and Windsor Gardens Inc. were also sold parcels of land in the Peter's Hall area. In 2012 and 2014, 25 and 15 acres, respectively, were acquired by Navigant Builders Inc., while Windsor Forest Inc. acquired 40 acres.
Queensway was sold 35 acres of land at Block 22 A, Block Y Golden Grove. This newspaper was unable to ascertain in which year the purchase was made.
A total of six developers purchased land in the Little Diamond/Great Diamond area. Queensville Housing acquired 12.5 acres; A&R Jiwanram Printery Inc., 7.64 acres; RayDan Housing Enterprise, 16.9 acres; Hi Tech Construction Inc., 20 acres; and Romel Jagroop General Construction Services, 12.5 acres. All of these purchases were made during the year 2014.
Last on the list was Mohamed's Enterprise, which purchased 14.94 acres of land in the same area in early 2015.
These lands were supposed to be developed for the construction and sale of homes.
Since the APNU+AFC administration took office in May 2015, the 18 developers who bought almost 600 acres of prime housing lands, stretching from Providence to Golden Grove, have been repeatedly warned to get their acts together and to honour the agreements that they had signed with the CH&PA.
Around the Web