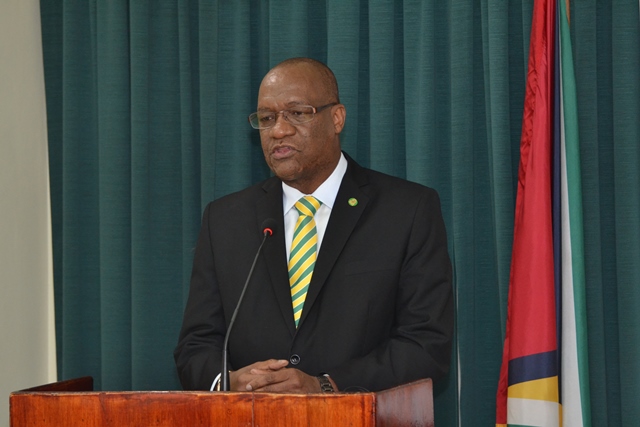 The unavailability of flights to Puerto Ordaz, Venezuela has forced government to postpone a planned trip there to assess consular services for Guyanese residing there amid the economic and political turmoil wracking the country.
Minister of State Joseph Harmon announced during a post cabinet press briefing on July 5th that the team comprising officials of the ministries of Citizenship and Foreign Affairs would have been in Puerto Ordaz from July 12 to 16.
Stabroek News was able to confirm last week with the Foreign Ministry that the trip has been called off for the time being. Sources have indicated that the postponement was necessary as no flight is available from the capital Caracas to Puerto Ordaz. Given the crisis situation in the country some airlines have closed operations and as such many areas do not have regular flights.
Harmon had said that the trip was necessary as thousands of Guyanese nationals reside there.
"We need to have a much more solid arrangement where Guyanese people can actually get the kind and quality service that they deserve and so this is part of the mission that is going there to look at these issues", he told reporters
The team would have been headed by Barbara Haley, the Director of the Frontier Department at the Ministry of Foreign Affairs.
According to Harmon, the visit was approved at a recent cabinet meeting, and the initiative is meant to enable the ministries to plan a more effective response to the influx of Venezuelan migrants and returning Guyanese nationals from Venezuela.
While noting that the visit forms part of an assessment of the consular services that are provided to Guyanese who are resident abroad, he said that an estimated 15- 20, 000 Guyanese reside in Puerto Ordaz.
"Wherever our Guyanese citizens live we are looking at providing better consular services to them and so this mission is really to look at how best we can provide consular services and in the event of the migration of Venezuelans coming and going that we can provide a better facility at Puerto Ordaz", he said.
Since the crisis erupted in Venezuela several years ago, many have made their way across the border, particularly in Region 1.
Around the Web