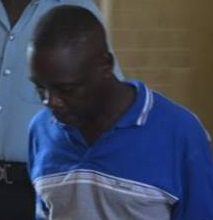 A Mabaruma resident was yesterday remanded to prison after he was charged with the manslaughter of an Aruka fisherman earlier this week.
Junior Abrams, also known as 'Black Boy', 43, was read a charge which alleged that on July 14, at Kumaka Waterfront, he unlawfully killed Elroy Marks.
Abrams was not required to enter a plea to the indictable charge, read to him by Chief Magistrate Ann McLennan.
According to Police Prosecutor Vivian Adolph, on the day in question, the now deceased man and the accused were at a shop when an argument ensued between the two. As a result of the argument, Abrams, according to the prosecutor, armed himself with a broken glass bottle and stabbed Marks in his neck.
The prosecutor noted that the file in relation to the matter is incomplete.
Chief Magistrate McLennan then remanded the accused to prison and adjourned the matter for August 20, when it is expected to be heard at the Mabaruma Magistrate's Court.
Marks, 43, a fisherman of Aruka River, North West District, and also of Dartmouth, Essequibo Coast, was stabbed about 3.30 pm on July 14.
It was reported that the victim and suspect, who were known to each other, were imbibing at a shop when an argument ensued and subsequently escalated into a fight. During the fracas, the suspect allegedly broke a bottle and stabbed the victim to the neck, leading to profuse bleeding.
The victim was rushed to the Mabaruma Regional Hospital in an unconscious state where he succumbed to his injury whilst receiving treatment, at about 8.55 pm on the same night.
Around the Web