Minister of Natural Resources Raphael Trotman says that he has refused the importation of 30,000 kg of mercury into Guyana from Mexico as the Government continues to make strides towards the reduction of the toxic metal's use in gold mining.
Trotman made the disclosure during a visit to the new the Guyana Gold Board (GGB) office and laboratory in Crown Street, Queenstown yesterday.
"I can add as well that I stopped, restricted, or refused the importation of 30,000 kg of mercury into Guyana. The Government of Mexico contacted me about the ship, which they were being asked to approve, and I have refused to accept it because it is a lot of mercury and I am concerned about the use of mercury in our rivers and poisoning the people of Guyana and of course we had it come home in a real and dangerous way to the employees of GGMC [Guyana Geo-logy and Mines Commission]," Trotman explained.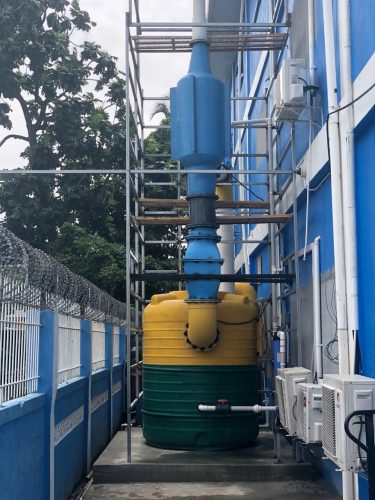 He noted that there was limited information and details on what the mercury was going to be used for, how it was going to be stored and disposed of and he was not satisfied that it was going to be carefully managed.
In a bid to decrease the use of mercury in gold mining and by extension the pollution of mercury from burning the amalgamated gold, Trotman noted that the government is getting support from stakeholders such as Conservation International, the World Wide Fund for Nature (WWF) and the United Nations to reduce "to a minimum the use of mercury in Guyana and hopefully one day, with the miners, we can come to a place that we no longer have to use mercury."
Last year, President David Granger recommitted Guyana to eliminating the use of mercury by 2027. Addressing the High-level Side Event of the 1st Conference of parties to the Minamata Convention on Mercury in Geneva, Switzerland on September 28th, the President said, "Mercury is not a plaything. It is harmful to human health and to the physical environment, whether in the air, on land or in water. The use of mercury, in human products and processes, is a threat to human health and the environment."
He added, "Guyana reaffirms its commitment to the implementation of the Minamata Convention.  My country set itself the goal of reducing mercury emissions by 55 per cent within the next five years…"
Trotman said yesterday that the ministry is looking at alternatives to "sponge" amalgamated gold and that the GGMC has been working with the mining associations for years looking at alternatives and they are currently moving towards unveiling a programme in collaboration with Conservation International, called 'El Dorado Gold,' where they will be looking at alternatives to mercury.
"It's an ongoing process but the miners are convinced that mercury gives the best returns and it is the government's job to work with them in finding alternatives which are viable to keep the maximum accumulation of gold," Trotman added, while noting that a popular alternative is the Shaker Table.
He also noted that there are other alternatives that the large companies use and they are hoping to expose the artisanal miners to the other methods at planned training sessions on alternatives to mercury.
Small and medium-scale miners have complained about the cost of the Shaker Table, which can sometimes be as much as $20 million. However, Trotman asserted that the cost of the equipment should not deter the miners from exploring its use.
"We accept that it is expensive but when you look at the value gold does bring to them, I believe that the value outweighs it and when you realise you are killing people and poisoning the fishes people have to eat then we shouldn't really be hung up on that. However, we hear them and one of the matters we will be proposing in the 2019 budget is government actually buying some Shaker Tables. So, like [mining] syndicates we can give them five tables amongst themselves to work… But to say that it is expensive should not be a bar to using it," he explained.
Environmental permit
Earlier this week, Trotman met with gold dealers to discuss regulations. He explained that they also discussed the issue of burning gold and he related to them that they will now be required to have an environmental permit from the Environmental Protection Agency (EPA) every year.
"…Because we have a proliferation of small operations in Bartica [and] you can just walk the streets and some parts of Georgetown and you see people burning gold. We have to ensure that the EPA is also regulating this and we said to the gold dealers that they will now be required to have an environmental permit issued by the EPA on a yearly basis if they are going to be licensed by the Gold Board to be dealers. We are adding yet another layer of regulation. We don't want to know that people are at risk," he posited. 
To reduce mercury emissions at their new office and lab, the GGB is currently setting up a triple processing system, which is valued in excess of $18 million.
The contractor, Kevin Gomez, from ActLab – a Canada-based company – explained yesterday that the new system is more technical than the one that was at the previous GGB laboratory and when the processing is concluded, the mercury is expected to be "very, very below the admissible level."
Three-tier system
"It's way different. This is a three-tier system and the Gold Board had a one point [system]. In this mercury-basement system, we have three recovery checkpoints and all three of those positions mercury can be recovered. The first one would be a condensation unit, where the mercury vapour passes within stainless steel tubes and holds water within a water jacket and the mercury is condensed. Then the fume continues up where there is another scrubbing system that takes out any particulars and mercury. From there, it passes through the water tank, which cools the air and it goes to the final checkpoint of an activated carbon checkpoint," Gomez explained.
Both Gomez and Chairman of the Gold Board GHK Lall stressed that the system is still being tested and is not ready for the burning of gold. They could not give a specific date when they expect to restart their operations since they want to make sure that the system is running and performing at an optimum level.
Trotman also noted that they are still recovering from the concerns raised over mercury contamination at the GGB and GGMC and they have no intention of repeating their mistakes. "…And this is why we want to ensure that as the Gold Board finds a home here, it is my wish and desire to give them a permanent place in an area they can be settled. We continue to look for land where we can build something but for now the idea is to have them housed here, not permanently but we expect that in a few months to a year's time we will be able to find a permanent place," he added.
Around the Web