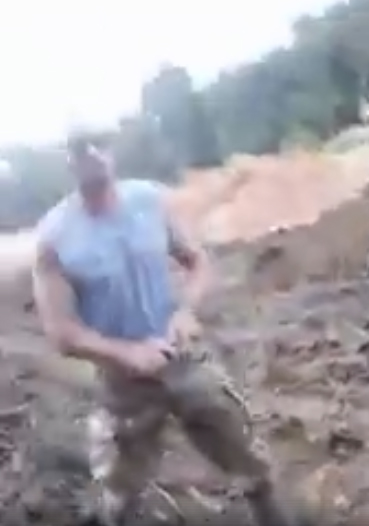 Minister of Natural Resources Raphael Trotman has called on the Guyana Geology and Mines Commission (GGMC) to launch an investigation into an assault on a Guyanese miner apparently by an armed Russian security guard working with a local company.
The call for the investigation comes after videos of the incident between employees of the Hopkinson Mining and Logistics Company and the Russian surfaced on Facebook.
The video shows the employee and the security guard engaged in a disagreement over access to mining lands.
In the video, shared on Rickford Burke's Facebook page, a worker of Hopkinson Mining and Logistics was seen attempting to explain to the guard his right to access the mining lands. However, during the disagreement, the guard hit the worker before walking away. The worker, at that point, told him to desist after which the guard turned and attempted to punch the worker. Persons who were present rushed to intervene and it was at that point that the guard reached for his weapon that was sheathed on his waist. The video ended abruptly and did not indicate when and where the dispute occurred.
Speaking to Stabroek News today, owner of the company, Shaun Hopkinson confirmed with Stabroek News that the attack did occur on his two employees. He is calling for a thorough investigation to be done by the Guyana Police Force  and the other relevant authorities.
Hopkinson noted that his company has claims in the area dating back to the 1980s and they would usually send their rangers to make spot checks.
"…And while my rangers were visiting the Russian came out and said that we don't have any claim even though we had an issue to rectify the claim some years ago because it's some old, old claims. After the guy was showing him the documents for the claim, and he [the Russian] knows about the claim, (he) punched my guy and then drew his gun and tried to shoot him," Hopkinson said, while adding that the Russians who work around the area of his claims are known to be aggressive and this is not the first time they have attacked Guyanese.
Yesterday, Minister Trotman told Stabroek News that upon seeing the video, which he described as "disturbing" he asked the GGMC's Commissioner of Newell Dennison to immediately investigate the matter.
"I am ordering an immediate investigation into the circumstances surrounding this incident and need to know how whether this foreigner has a licence to carry the firearm seen in his waist," he said.
He also informed Dennison that the police should be involved in the investigations.
Stabroek News also learnt that the Natural Resources Ministry is preparing a multi-agency investigation which is likely to include ranks of the Guyana Defence Force and Guyana Police Force.
Around the Web