A night of partying ended tragically as three friends are now dead and another is critical at the George-town Public Hospital (GPHC) after the car they were in collided with a parked lorry on the La Grange, West Bank Demerara Public Road early yesterday morning.
The communities of Nismes and La Grange were enveloped in gloom yesterday as they mourned the loss of the three men, the latest in tragic accidents on the West Demerara.
According to information reaching Stabroek News, 33-year-old Leroy Junior Levon of Nismes Housing Scheme was driving a Toyota Sunny, PDD 7182, with three of this friends: 25-year-old Devindra Hardyal and 20-year-old Rishi Pasha, both of La Grange, and 22-year-old Devon Bourne of Goed Fortuin.
The four men were reportedly at a party in Stanleytown where they were drinking and were on their way to Goed Fortuin to drop Bourne home around 4:20 am when Levon lost control of the vehicle and collided with the lorry that the police say was properly parked on the western side of the road's parapet.
The police also said that the car was reportedly travelling at a fast rate and the impact moved the stationary lorry some distance from where it was parked. The impact of the collision totalled Levon's car which also reportedly flipped several times before coming to a halt on the road.
The men were rushed to the West Demerara Regional Hospital (WDRH) where Levon and Hardyal were pronounced dead on arrival and Pasha succumbed later in the morning, around 7. Bourne was rushed to the Georgetown Public Hospital where he is listed as critical.
At Levon's residence yesterday family and close friends had already gathered to offer his father, Leroy Sr. Levon, their support.
Leroy Sr. said that he last saw his son around 11:30 pm on Saturday before he left to go out with his friends.
"He runs the business – a Meat Centre and Grocery Store in Bagotville – because my wife is on vacation so he does run it on Saturdays. He work last night [Saturday] and he close the business around 8:30 [pm] but his brother did a little barbecue in front and then he came home and changed and went out back around 11:30 and I didn't see him since," Leroy Sr. said, while explaining that he wasn't aware of the accident until his eldest son called him and informed him of what had happened.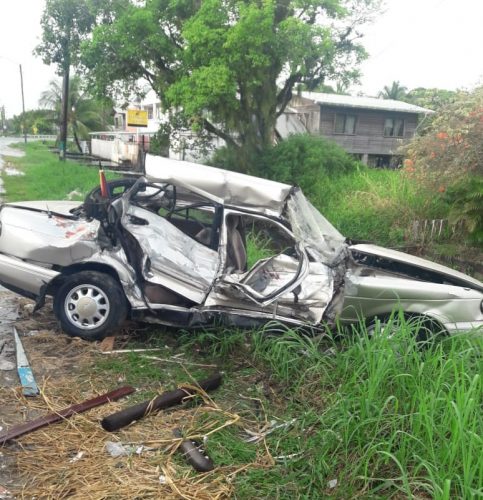 He said he subsequently rushed to the hospital where he was informed that his son had died as a result of the accident.
"Apparently it was the highness. He was going to drop his friend home, the one that was living in Goed Fortuin and the rain was falling so the road was probably wet and apparently when he went around the turn he couldn't control the car and ram into the Canter back and spin and what's not," the still-distraught man said.
A few villages north of Nismes is La Grange where both Pasha and Hardyal are from, and lived not too far from each other.
At Hardyal's residence, his sister, Marsha, was sitting on a makeshift bench along with her grandfather who was lying in a hammock surrounded by other family members and close friends. The family was shocked at what had happened and said that they were still having difficulty accepting that Hardyal was no longer alive.
"This morning when I get the message I didn't believe it cause I de still sleeping. Is in me sleep and wake that I realise what happened. I get up and I call me grandmother and ask if she know what happened to my brother and right away I rush to the hospital. When I reach there nobody ain't want tell me what happened. But is when I go inside I see me brother dead and lie down," the woman related.
She explained that she last saw her brother around 12 am yesterday when he came home and asked for food. She said she fed him and he relaxed in the hammock while his three friends waited for him in the car on the road.
"…Then the short one [Bourne] come, cause all of we is friends, we grow up together, and he ask me what going on and then he left and went upstairs to me brother and tell he that they waiting on he for more than an hour. He eventually come down the stairs and he had on a vest and jersey on he shoulder, and then he put on the jersey and fix he pants. He had to run inside back for something so he call me and tell me to tell he friends not to go away and leff he because he going with them," Marsha recalled.
She said that he subsequently rushed down the stairs and jumped into the car which travelled towards Bagotville, where he and his friends went to party. She also noted that they heard that after the party the four men were going to another one in Pouderoyen "but them nah reach."
About 200 feet south of Hardyal's residence is where Pasha lived. Friends and close family had already gathered to offer their condolences and continued flowing in throughout the day. Echoing similar sentiments' as Hardyal's family, Pasha's also noted that the news of his death "shake we up."
They related that they last saw him around 11 pm before he left the house to attend a wedding in Bagotville and had not heard anything until they received a call from someone informing them that they saw the young man at the hospital and that he had been involved in an accident.
After hearing the news they rushed to the WDRH where they saw him on life support and were told that he was brain dead. After a few hours Pasha passed away.
One of his friends who identified himself as "Rastaman" told the family that he saw Pasha at the wedding around 3 am and was left dumbfounded when he heard the news a mere two hours later. The family is unaware of what exactly happened that led to the accident and where he was headed at the time. However, they did explain that the other three men are known to them as they would usually hang out together.
Around the Web