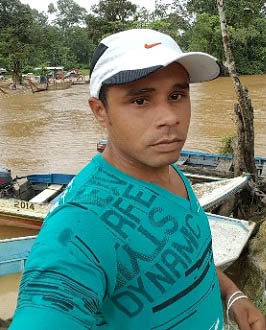 Estevao Costa Marques, the Brazilian miner who was fatally shot by a Police constable on Saturday in the Puruni District, Cuyuni/Mazaruni sustained a gunshot to his head, an autopsy confirmed.
Police spokesman Jairam Ramlakhan in a press release said that the autopsy was conducted yesterday by Government Pathologist Nehaul Singh who indicated that the bullet entered the back of the head and exited through the front.
"He also opined that the deceased was shot from a range (of) more than five feet", Ramlakhan added.
Meanwhile, the two policemen: a constable and a sub-ordinate officer, who were arrested in connection with the crime remain in custody.
The police are currently awaiting legal advice on charges, a police source yesterday said.
The police constable has since admitted to shooting Marques, who he said fired upon him first. The constable was scheduled to participate in an ID parade on Tuesday but he refused.
The two ranks were among several persons who were transported to Georgetown between Sunday and Monday for questioning at the Criminal Investigation Department (CID) Headquarters, Eve Leary.
Among the other persons are Brazilian nationals and relatives of Marques, who reportedly witnessed the fatal encounter.
The Guyana Police Force, in a statement issued on Sunday, said that it was discovered that the two accused cops "abandoned" the Kurupung Police Station, to which they had been assigned, sometime on Friday morning. They left on an ATV "for patrol duties, armed with a .30 Carbine Rifle and subsequently joined a boat and proceeded to a Landing along the Puruni River."
It noted that initial investigations revealed that the two policemen arrived at the Puruni Landing "around midday on Saturday. The Subordinate Officer claimed that he remained in the boat while the Constable armed with the rifle, exited and proceeded to a shop and shortly after two loud explosions were heard which caused him (the Subordinate Officer) to proceed to make enquiries."
Upon enquiring, the police said that the Subordinate Officer saw the body of the Brazilian miner, later identified as Marques, 37, of Pinheiro, Maranhão, Brazil, lying on the ground.
"The Constable told him that a male (Marques) discharged a round at him and he returned fire," the police statement explained.
It further stated that two other members of the force, a Subordinate Officer and a Detective Constable attached to the Bartica Police Station, who were in the area on duty investigating a report of alleged threats, arrived at the scene and took away the firearm which was in the possession of the Constable and alerted the Divisional Commander, Kevin Adonis.
Around the Web