The Route 42 Bus Park has been temporarily relocated to Bugle Street, as the Mayor and City Council continues to search for a permanent location, Town Clerk Royston King said yesterday.
 "Well as you know some three weeks ago another portion of the Stabroek Market roof collapsed, endangering the lives of some of our legal tenants who operate there. Some 99 of those people working there that pay us a rent every month for operating. As a result of that we couldn't sit and do nothing as a responsible Council. We had to take action because, first of all, the Stabroek Market Wharf is Council's facility and Council is responsible for everything that happens under that facility," King explained, yesterday afternoon, at an impromptu meeting with the drivers of the Route 42 minibuses and short drop cars, at their new temporary location on Bugle Street.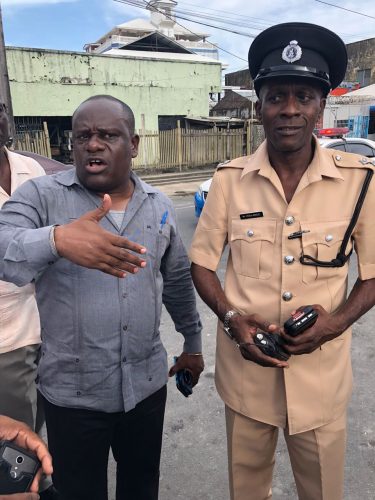 The Town Clerk added that as a result of the dire need to move the vendors from under the collapsed roof, they had to make the decision to relocate them to an area where the Route 42 Bus Park was located, which resulted in the minibuses and short drop cars being displaced.
The Route 42 Bus Park was then shifted to Lombard Street but the drivers staged a strike on Monday to protest the move. They subsequently met with the Council and reportedly settled on Bugle Street as a temporary location.
Bugle Street, which is south of Cornhill Street and runs from Water Street to Lombard Street, has been resurfaced and demarcated with yellow lines and the other necessary traffic signs.
"Because we understand that all of our citizens have a right to make a livelihood, including our bus operators and taxi drivers, we have had to create a park on a temporary basis for those buses that were dislocated, and as a result of that we have created a temporary park on Bugle Street," King explained to Stabroek News, whilst surrounded by a crowd of drivers.
King noted that the drivers have agreed to work in the area temporarily, to utilise a line system and to pay a weekly fee of $2,000, towards the cleaning and maintenance of the area, as well as the provision of security.
The Town Clerk added that he believes they will create a proper and model park which could be used in the future to regularise the other bus routes around Stabroek Market Square.
"I am very pleased. Yesterday they were here and they are now doing exactly what they had promised. There are no touts, the area is quiet and the drivers and operators are getting about their business in a peaceful manner," King said, while also stating that they will install additional lights in the area, as well as, an additional washroom.
He also noted that they will have the City Constabulary and Guyana Police Force ranks doing frequent patrols around the area.
The majority of drivers and operators said that they are fine with the temporary arrangements but only if the City keeps up their end of the deal of maintaining the area and preventing other drivers from using the "hot plate" to load.
"…We have all the stakeholders cooperating and we have to say that we are very pleased and so this is a temporary arrangement. The police are helping us to ensure that buses parked in the wrong areas are shepherded into this area," King said, while noting that they will also be issuing special stickers to the buses that would allow them to work in an orderly manner and to be easily identified by the police and the city constabulary ranks.
"So those in default will be easily seen and taken out of the line and dealt with according to the law. I think this can work and it has started to work and I am very happy. We have also agreed and will inform the commuters," King continued.
The Town Clerk also added that they are hoping to find a more permanent solution for the drivers and operators within another three to four weeks and if not, they will hold another meeting to inform them of the next course of action.
"We are asking them to let us make this a model so that we can replicate this in [other] areas. We are looking at this as a pilot and once it works we can replicate it," he stated.
The drivers also suggested that certain streets within the area be converted to one way streets to prevent buses from cutting into the line, to which King replied that they have already started making the necessary traffic signs which will be erected soon.
Assistant Superintendent Mark Vigilance, who is in charge of Traffic in 'A' Division, was also present and emphasised that additional patrols and traffic ranks will be placed around the area to increase security and to prevent other buses and vehicles from breaking the laws.
Around the Web