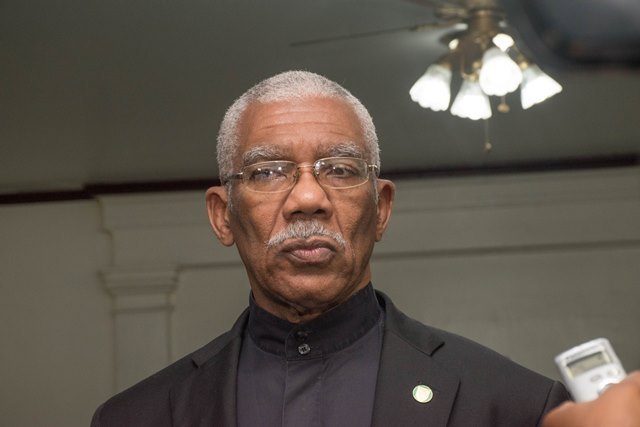 President David Granger has signed into to law the contentious Cybercrime Bill.
According to Extraordinary Gazettes, dated August 13th and published on Saturday, also assented to were The Deposit Insurance Bill 2018 and The National Payments Systems Bill 2018. All three bills are now Acts.
The Cybercrime Bill became the subject of criticism after it returned to the House from a Special Select Committee.
Concerns centred around Section 18 (1) of the bill, which stated that "A person commits an offence of sedition if the person, whether in or out of Guyana, intentionally publishes, transmits or circulates by use of a computer system, a statement or words, either spoken or written, a text, video, image, sign, visible representation, or other thing, that (a) brings or attempts to bring into hatred or contempt, or excites or attempts to excite disaffection towards the Government established by law in Guyana."
The Guyana Human Rights Association, the Working People's Alliance and the National Toshaos Council were among the organisations that all publicly criticised the clause, arguing that it was an attempt to stifle the rights of individuals to freedom of speech.
 the third reading of the Bill last month, Opposition Chief Whip Gail Teixeira called on the National Assembly to amend the Cybercrime Bill by deleting the proposed Section 18 in its entirety. "Freedom of speech is now seen as a touchstone of democracy and the ability of individuals to criticise the state is crucial to maintaining freedom," Teixeira said.
However, the government side of the House used its majority to defeat the motion, opting instead to remove the subsection by way of an amendment brought by Attorney General Basil Williams.
According to Williams, government amended the bill based on criticisms received.
In presenting the bill, he noted that Cabinet considered the comments on the clause and decided to delete Subsection (1) (a), which was the main cause of concern. Additionally consequential changes were made and the clause was revised by the Drafting Division of his ministry in collaboration with a free speech and media attorney.
Following the passage of the amended bill by the government majority, Section 18, which previously addressed "Sedition," now addresses "Offences against the state."
Apart from Section 18, a further amendment to Section 9 was tabled by Williams and passed by the House.
According to both Williams and Prime Minister Moses Nagamootoo, amendments to Section 9 resulted from concerns raised by the international watchdog Reporters Without Borders.
Around the Web