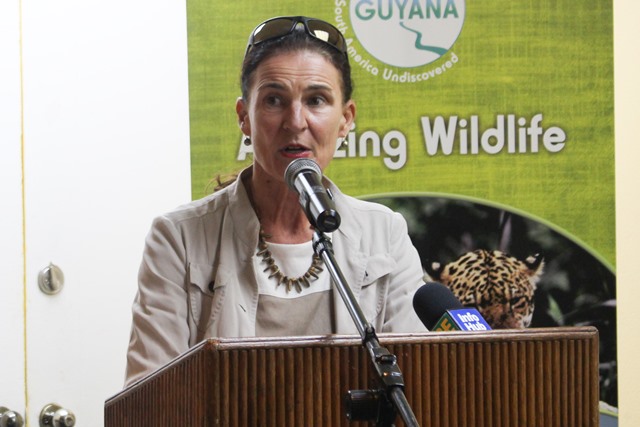 Guyana is set to be marketed as a must-go destination by North American and German  firms in an initiative spearheaded by the Guyana Tourism Authority (GTA) to put the country on the global map.
GTA's Director Brian Mullis at a press briefing held at Cara Lodge yesterday afternoon announced that the initiative would see the companies from the United States, Canada and Germany, acting as tourism ambassadors for Guyana.
He noted that the companies would be working along with the GTA to establish Guyana's presence in North America and Germany which he described as a "priority investment areas."  Mullis noted that they will be adding marketing representatives in the United Kingdom soon.
Guyana has tried various options at overseas marketing of its tourism sites over the years with very limited success.
Emerging Destinations in partnership with Green Team Global and Corner Sun Destination Marketing are tasked with marketing in the North American region while Travel Market Romberg in association with Fast Forward Marketing would be responsible for the German market.
"Their role is to effectively reach new media influencers, travel tourism businesses and consumers in our source markets in an effort to raise awareness of Destination Guyana," Mullis stated.
 "They are all chosen based on their indepth expertise and works with emerging destinations and longstanding relationship with the media," Mullis explained.
Representatives of the firms spent the last six days touring and learning of Georgetown, Kaieteur Falls, Iwokrama and sections of North and South Rupununi.
"Yes! We are going to market Guyana as the new (go to)  destination. People are desperate for new ideas and new places to go, writers especially and so little is known in your market…" said Jane Behrend President of Emerging Destinations.
"When we told people we were getting the country of Guyana as an account, the first thing people say `oh wow I have never been to West Africa' and we say no, South America," she explained during the press conference, while pointing out that little is known of the country.
Behrend stressed that her company would be using Guyana's virgin rainforest, sustainable tourism, community tourism, the culinary culture, and people as some of the points to market the country and place it on the tourism map of the world. She added that a selling point would also be the fact that Guyana is the only English speaking nation in South America.
"This is your Guyana and it is  just an incredible experience… the people … here are so welcoming," stressed Behrend before saying "the extreme beauty of the country and all you have to offer we have so much to work with and a little bit of a challenge because we have to put you on the map…"
Hugh Hough who works along with the Behrend and is the president of Green Team Global contended that Guyana has a tourism package that is unique, making it a suitable destination for the new "to go destination."
"… People want something new and Guyana is an amazing place and it is appealing. We have been talking and nobody said no. And that is a good start," Hough added.
Gabi Romberg of Travel Market Romberg believes Guyana has made a wise choice in selecting Germany as an investment area to boost local tourism. 
"We think the destination fits Germany because of the travel time in Germany we have a lot of vacation time , 30-50 days and that period is September to April and that fits your season well," she said while explaining that the experience that is offered here appeals to her fellow nationals.
"Germans are curious, they like to experience and learn new things. They don't like to sit back and relax three weeks on a beach somewhere… We are the ones who want to learn, get to know more …it is a perfect match for this destination…" she emphasised.
Like Behrend she also believes that Guyana being an English speaking country is a major factor in attracting tourists.
From statistics for 2017, some 463 Germans have travelled to Guyana, indicating that there is a market in Germany for Guyana, Rolf Nielander of Fast Forward Marketing interjected.
Romberg said that having visit Guyana they now have to return home and work to change the country's image.
"One challenge is, a lot of people they don't know Guyana and they have a perception that Guyana is not safe and that is what we have to work to change by telling them it is safe because we visited…" she noted.
Both firms intend to market Guyana through travel and destination magazines, social media, travel agents and tour companies. The marketing strategy also includes promoting Destination Guyana at trade shows, use of ambassador programmes and media personnel.
"Guyana is not cheap but what Guyana has is what tourists are looking for something new. A lot of travellers want to be the first to go to a place before their friends and a lot of people doesn't know about Guyana but we are going to shine the spotlight and get the right people to appreciate what you have…" David DiGregorio, Managing Director of Corner Sun Destination Marketing said.
The firms believes that with the presence of American Airlines in Guyana from November there will be an influx of visitors into the country. "With American Airlines starting up in November that is going to be a game changer for the market by increasing the number of travellers," Behrend posited.
Around the Web