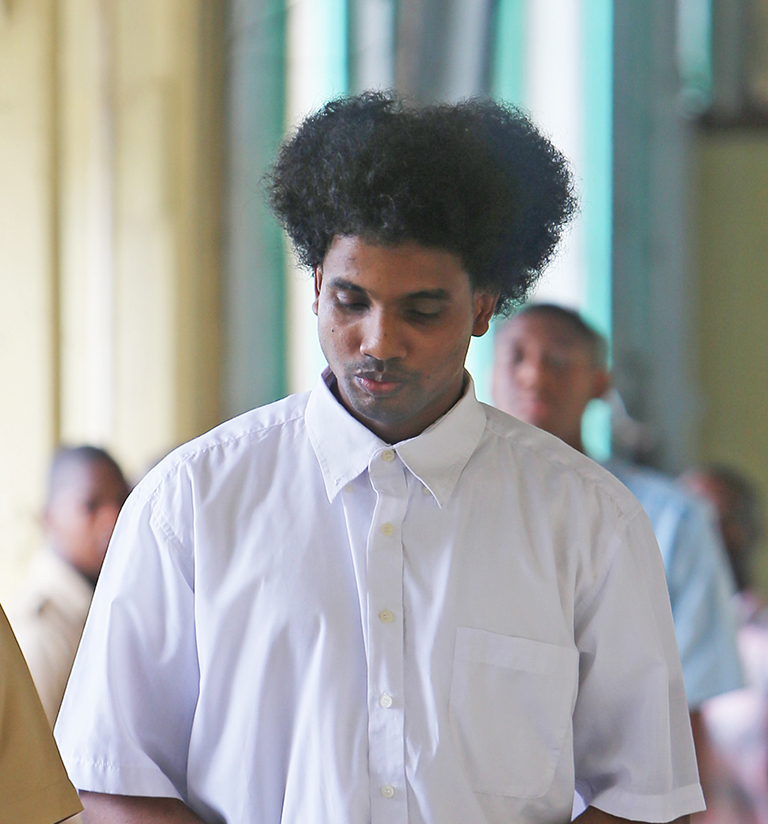 Despite his claims of remorse and pleas for mercy, 25-year-old Rowland Sam was yesterday handed a life sentence for raping a seven-year-old girl, whom he sodomised after she had been left in his care.
Recalling the evidence presented at trial, Justice Priya Sewnarine-Beharry noted that Sam, in whom trust was reposed to keep the child, sexually penetrated her in four different ways on one single occasion.
"These are not acts which can be ignored by the Court," the judge sternly warned, while noting that a strong message of deterrence needed to be sent to potential offenders that such despicable acts would not be condoned by the Court.
Given a chance to speak, Sam sought to disassociate himself from what he described as additional acts which the child claimed he performed on her. The convict remained adamant that he had only inserted his finger into the child's vagina. While accepting in an apologetic address that this nonetheless amounted to violating the child, Sam seemed intent on declaring his innocence as it related to all other acts. "I know what I did and it was very wrong," he said in a soft tone, before adding that the graphic picture painted by the complainant of the other acts was untrue.
The judge, however, cautioned him that he had been convicted by a jury, which had found him guilty of performing the acts following the presentation of evidence during his trial.
She also explained to him that all four different acts of violating the child constituted forms of sexual penetration as defined by the Sexual Offences Act, under which he was charged.
Following the verdict last month, Sam's sentence had been deferred for the presentation of a probation report.
On August 20th, a 12-member jury in a majority verdict of 10 to 2 convicted Sam on charges of rape of child under 16 years in that he sexually penetrated the young girl sometime between January 1st and January 31st, of 2015. He was 22-years-old at the time.
'Reprehensible'
In the probation report, which was read to the court, Probation and Social Services Officer Matola Bristol described Sam as coming from a dysfunctional family, void of any parental guidance or values.
The report noted that the young man's parents separated at a tender age, and that his father was an alcoholic who scarcely contributed to his upbringing, while his mother was physically and verbally abusive to him. 
Describing him as semi-literate, Bristol said that interviews with both relatives and persons in Sam's community described him as a responsible, hardworking, quiet individual. The court heard that the young man, who sought employment as a labourer in the construction and gold mining industries for some time, had admitted to previously having a gambling addiction, which he blamed on peer pressure.
Bristol said many of his relatives and persons in his community expressed shock upon learning of the indictment against Sam, even as they noted that he was not of questionable character.
The social worker said, however, that the man's unstable childhood was only compounded by the nomadic lifestyle which his parents lived. As a result, she said, he was never able to foster any bonds of lasting productive friendships or family ties as he lived with different persons from time to time.
She, too, said Sam only partly accepted responsibility for what he had done. It was at this point that Bristol said Sam had alleged being sexually abused himself—both growing up and while serving time in prison for an unrelated charge of wounding.
Bristol said, however, that while from all indications Sam had a traumatic upbringing and now vows to change—begging for an opportunity to lead a more productive life—the Court needed to execute its mandate by imposing punishment as she noted that what he did was reprehensible.
She said that a strong message of deterrence needed to be sent to potential offenders.
Meanwhile, the child, in her victim impact report, also called for the convict to be punished for what he had done to her, while adding that she would not want what had happened to her to happen to any other child.
Senior counsellor Nicola Foo, who is attached to Blossom Inc. and who read the child's statement, said she related still feeling angry and scared due to the assault, while adding that her academic performance resultantly declined.  
The report quoted the child as saying that she also now feels uncomfortable around males and does not like talking about the assault she has had to endure.
The complainant receives psychosocial support and counselling at Blossom Inc.
'Very sorry'
Stressing that he was "very sorry" for what he had done to the child, Sam said it was always his desire to confess to his crime by pleading guilty from the inception, but he was advised against it by his lawyer. Nonetheless, Sam again said he did not commit "all the acts."
"I know what I did and it was very wrong," he told the judge, even as he asked for mercy and a chance to return to society to set a "good example for others to follow."
The convict said that he had learnt a lesson and wants to live a God-fearing life of good character.
The man's attorney, Clyde Forde, echoed his pleas for mercy while asking the court to consider his remorse and to discredit from whatever sentence would be imposed the time he would have spent on remand awaiting trial.
For her part, however, Prosecutor Orinthia Schmidt asked the judge to consider that Sam had breached a position of trust. She also highlighted the prevalence of such offences are being committed. In an impassioned address, she emphasised, "Children must be left alone to thrive and grow fully without being interfered with."
In handing down sentence, Justice Sewnarine-Beharry said that she had considered both the aggravating and mitigating circumstances of the case.
She recalled the child detailing sitting on the ground watching cartoons, when Sam removed his clothing, pulled her pants and underwear to her knees and thereafter proceeded to violate her.
The judge said that not only did she have to consider these factors, but the emotional and psychological scars with which the child must now live because of the assault, as well as her age at the time.
The judge also pointed out to the convict that he had breached the trust of the child's mother, who left her in his care.
Meanwhile, on the mitigating side, Justice Sewnarine-Beharry said she had also taken into account the circumstances under which the convict was brought up, his show of remorse and apology to the complainant and the time he had spent behind bars awaiting trial.
The judge then imposed the sentence of life upon a visibly- worried Sam, ordering that he serves 20 years before becoming eligible for parole.
Additionally, the judge made an order directing prison officials to ensure that Sam is provided with the requisite counselling services he also needs and which are necessary in aiding his rehabilitation as well.
Around the Web