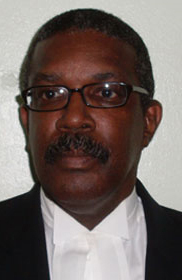 Insisting that he went through a long and transparent process to choose his nominees for substantive Chancellor of the Judiciary and Chief Justice, President David Granger on Wednesday called on Opposition Leader Bharrat Jagdeo to justify his rejection of them, saying he would be willing to consider them.
"The process is transparent and legitimate and he has not told me what his process was in rejecting it but I am confident that my process produced the best candidates and I am prepared to stand by my candidates," the president told reporters at State House.
Article 127 (1) of the Constitution stipulates that "the Chancellor and the Chief Justice shall each be appointed by the President, acting after obtaining the agreement of the Leader of the Opposition."
In late December last year, Granger had informed Jagdeo that Justice Benjamin was his nominee for the post of Chancellor of the Judiciary, while Chancellor (ag) Yonette Cummings-Edwards was being proposed for the substantive post of Chief Justice. Following a meeting on January 3rd, Jagdeo, however, asked for one month to consider the nominees. As a result, a second meeting was set for February 7th, when Jagdeo was expected to inform the president if the nominees met his approval. In a letter to the president that very day, Jagdeo made it known that after undertaking the requisite due diligence he could not support either of the two being appointed. He did not offer any reason.
As recently as earlier this month, Jagdeo insisted that his objection to the president's two nominees remains.
Granger was asked on Wednesday whether he has set a new date to consult Jagdeo on the nominees.
He told reporters that as far as the nominees for the Chancellor and Chief Justice are concerned, he had set in motion a process which began with a public advertisement. "Everyone who was interested in either of those two posts applied," he said, before explaining that thereafter he established a panel of seniors who interviewed all of the applicants.
Granger reminded that the panel produced a report with "certain" recommendations and on the basis of those recommendations he met with Jagdeo to propose the two nominees.
"So, it wasn't something hasty or arbitrary or whimsical. It was a process… there was a public advertisement, people who were interested applied, a panel interviewed them and made recommendations. So, when I met the Leader of the Opposition, it was on the basis of a long process and I didn't pull the name out of the sky. So, it is within his rights to not accept but I have a process," he said.
Asked what is likely to happen now, Granger, while reminding that he has described a detailed and careful and transparent process, said, "If he [Jagdeo] can show he has a similar process and justify the rejection of my candidates, it is something to be considered."
Questions have been raised about Benjamin and why he was even considered even though he resides abroad. Granger while pointing out that he is Guyanese, has insisted that he will remain his choice for the top judicial post.
Benjamin participated in the just concluded 50th Meeting of the Council of Legal Education (CLE) but declined to say whether he was still interested in the position when approached by this newspaper.
The current Chief Justice (ag) Roxane George did not apply for any of the positions. There have been numerous calls for Cummings-Edwards and George to be confirmed.
Newly-appointed Carib-bean Court of Justice President Justice Adrian Saunders and his predecessor Sir Dennis Byron have also expressed concerns about the impasse in making the substantive appointments and had urged that the situation be urgently rectified.
Substantive officer holders have not been appointed in over a decade. Both Justices Carl Singh and Ian Chang retired without being confirmed Chancellor and Chief Justice, respectively.
Around the Web