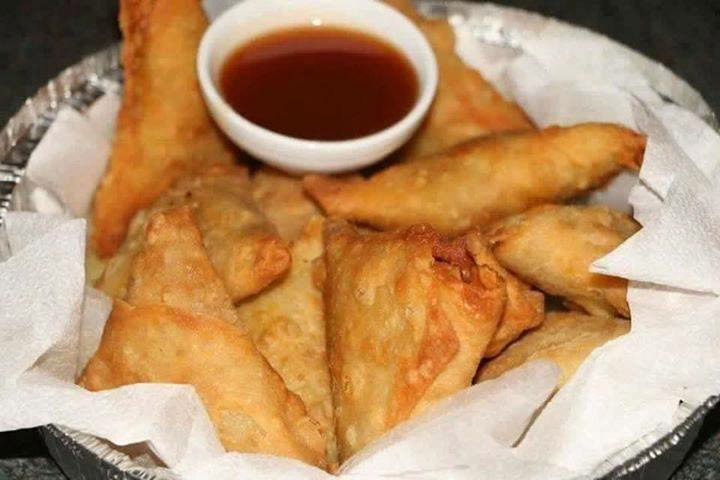 During his teenage years, Abdul Masud Khan was swept off his feet by samosas, when they were brought to his home from Trinidad by his mother.
In fact, he was so smitten with the simple delicacy that he managed to convince his mother to learn how to make them, unexpectedly laying the groundwork for Hint of Spice Catering. Khan has been working alongside his mother, Shamiza Bacchus, for the past two years to produce a variety of savoury and sweet treats from their La Grange, West Bank Demerara home.
However, before everything else came, the main focus of the business has been making and selling samosas.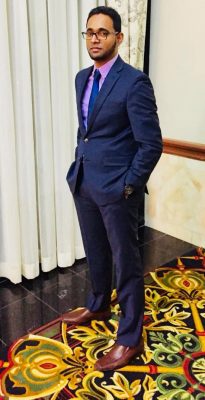 "My mother had brought back samosas from Trinidad many years ago as a snack for our home use then I started asking her to make it at home and by persons coming over and trying it, the idea was born to sell it," Khan told Sunday Stabroek.
However, the push to establish the business came only after the 25-year-old, who is a certified Information Systems technician and Project Manager felt the need for a "change."
"Being in the field of work I was in, I felt as though I needed a change and this allowed me to be my own boss in a market that is very lucrative," Khan said.
"We've been doing this for about two years, having started out with just samosas, catering to a few cafes and a few persons. But now we have a product line, with of course more clients and a staff count of three, with my mother serving the role as head chef," he added.
Khan, who has since earned the nickname "The Samosa Guy," plays the roles of marketer, accountant and delivery man.
Commenting on his clientele, the young entrepreneur explained while he does not want to name names, they continue to serve several notable restaurants and snackettes in and around Georgetown. He went on to explain that apart from marketing the business on social media, most of the clients started using their catering service based almost solely on referrals.
"I got and continue to get referrals and from delivering samosas persons started asking about more stuff. That's basically how the other items came on stream," Khan said.
"All our meats are Halal and vegan stuff is prepared with special care; we also have a policy where if you request something that's not on our list and we can do it, we will," he added.
In addition to the samosas, Hint of Spice offers a variety of treats, including chicken puffs, potato balls, parsad, doubles, and barfi.
"The samosa speaks for itself and we always have frozen samosa on hand, ready to fry but the other items needs to be pre-ordered," Khan said, while noting that their busiest periods are during religious holidays, particularly Muslim and Hindu holidays.
Khan is proud of the business being reliable so far, although the challenge posed to its delivery schedule by the traffic on the Demerara Harbour Bridge continues to be difficult.
"We are reliable and we almost never turn down an order, regardless of how big or small or last minute. Our stuff is delivered to your door, but sometimes I find it hard delivering on time, owing to the fact that we are located across the river and most of our clients are based in town. I am the only one doing deliveries but we still try to get everything done and available to our clients on time," he explained.
Looking to the future, Khan says he has his eyes set on owning his own snackette or possibly even a restaurant. Additionally, he also sees the business expanding to a point where they would be able to stock supermarkets with their own line of samosas. "I would love to see our different types of samosas packaged and stocked in supermarkets across the country and with the snackette or restaurant we would be able to have our products out there on a daily basis, which would also make pick up and deliveries a lot easier for us," Khan shared. 
For additional information about Hint of Spice Catering, interested persons can check out its Facebook Page at https://www.facebook.com/Tastebudsdoctor/  
Around the Web