Sixteen years ago, Kavita Singh (now known as Rose Park-Bennett) fled an abusive husband who was hooked on drugs and having no family support she turned to the state for help which resulted in her three sons being placed in an orphanage; she initially sought accommodation at the Night Shelter.
The eldest of the three died and the two remained in state care for a number of years, while, according to their mother, she worked towards owning her own home, so she could accommodate them, and they could be a family again. During those years, she remarried and had more children and it was with the help of her husband that she managed to get her own home and decided it was time to bring her boys home.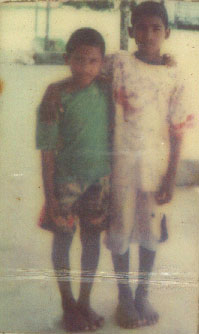 But it was nine years too late because by then the boys—Krishnan DeCunha and Kevin DeCunha (she knows them as Mickey DeCunha and Kevin Singh)—had been adopted and were living in the United States.
Today she walks around with a blurry photograph of her boys—part of a collage of photographs of all her children pasted onto a battered card that never leaves her handbag.
According to records of the Child Care and Protection Agency, the children were adopted in 2011; they had been placed in state care by their mother in 2002.
Their mother said Krishnan was born on September 1, 1998 and Kevin on March 19, 2000. She said she never gave permission for her children to be adopted and over the years had visited them at the C I Children Home. On the day she turned up with her remaining children at the agency's office it was with the expectation that she would have taken her children home to Berbice.
"But the woman ask me if I didn't know me children get adopt and gone to the US. Right away I get stupid and sit down and start to cry and she tell me how dem publish thing in the newspaper for me, but I never see nothing," the woman told the Sunday Stabroek in a recent interview.
While both of her sons are adults now, the mother said she just wants to know that they are alive and happy and also to let them know that she never stopped loving them nor did she abandon them. She wants them to know that she had them when she was a mere teenager and it was the abuse she endured at the hands of their father that caused her to flee their Meten-Meer-Zorg, West Coast Demerara home, which resulted them being placed in the state's care. She lived from pillar to post for years and could not take care of them, but when she eventually got her own home, a place was there for them and it still remains today.
"I never give them away. I just couldn't help it. I didn't go to school. I had no work or anything, but I never give them up I use to go and visit them when I get money and I always know I was coming back for them," she said as tears flowed down her cheeks.
She believes that more could have been done to contact her and she said she was just doing what she was advised to do by Director of the agency Ann Greene, whom she said told her she would get back her children after she got a home and could support them.
Adoption is a process
Contacted by the Sunday Stabroek, Greene denied that she would have told Park-Bennett this since the agency always strives to assist parents with the aim of having their children returned to them.
She said adoption goes through a process and all efforts are made to contact the parents. "It is a lengthy process, it first has to go to a board then to a judge and they have to be satisfied that efforts were made to contact the parents," she said.
Manager of the adoption department in the agency Kaycina Jardine further stated that the agency would not undertake an adoption unless it was deemed necessary.
While she was not at the agency when the children were adopted, she said the records show that they were adopted nine years after they were placed in state care. She said all efforts were made to contact both the mother and father of the children and records show that notices were published in the Stabroek News.
"If parents do not visit their children and they seem to be abandoned, it is the agency's responsibility to do what is best for the children," she said while pointing out that the fact that advertisements were done meant no one at the agency knew how to contact the mother or father of the children.
The mother though insists this was not the case. According to her, while she could not afford to visit the children as often as she would have liked because of financial difficulties, she called them on the phone and the home had a record of her number.
But Jardine maintained that if the woman had visited as often as she claimed then the agency would have had on record how to contact her and she added that the agency only facilitates the process through which the adoption is done.
"We don't approve adoption, it is done at the High Court after presenting the case to the Adoption Board," she said.
Greene told this newspaper there was a time when the mother had said she did not want the children and by that time she had someone else and other children.
"We could not have kept them in an institution forever. A child cannot stay in an institution until you want them," she said.
This claim was denied by Park-Bennett who said she had visited the agency and informed Greene that she had found someone, and they were working on getting their own home and once this was done she would go for her children.
"She ask me if a sure is somebody good and I say yeah he treating me good and suh and how we working to get we own place. If you know how hard me husband work to get a piece a land. I didn't even know he was doing it, but he know I would never be happy until me children come with me so he work hard…," the mother said.
According to Greene, the two boys would have suffered rejection and it was unfair for them to spend their entire childhood in state care as this would have affected them and done more damage than good, because when they have to leave those homes with no connection to a family it is difficult for them to function as adults on their own.
"Right now, we have too many children who are going to lose their childhood. There are far too many waiting on their parents to get it right. We have children who will age out of the institution and go out into the world without any connection with an adult. You cannot look at the parents alone, the children's interest come first.  Children are suffering because of selfish parents," the agency's director told this newspaper.
Abusive childhood
But for Park-Bennett, she is not a selfish mother, she was just a woman who was forced to start the adult journey while still a child. She shared that she had her first son—his name was Vickey—when she was just 13 years old and his father was 22 years old.
She never knew her mother until she was an adult and had grown up with her father and a stepmother. According to her, she was abused daily, mainly by her stepmother, but also by her father.
"When he come home from work and she would complain on me he use to beat me. She had a daughter and I was like the girl mother. I never go to school, it was just home and work whole day it was hard I couldn't take it anymore," she said as she openly cried.
She recalled once being burnt with a hot pot spoon by the woman.
She told a neighbour of her plight and the woman offered to take her in and desperate for a better life she accepted the offer. Her father attempted to take her back home, but she refused, and he visited the Leonora Police Station and told the police he was no longer responsible for her well-being. An officer visited her, and she related her experience, some of which her father denied but he admitted others.
She was left in the care of the woman who had children of her own and after a while the woman's then 22-year-old son became intimate with her. They had their first son, Vickey, when she was just 13.
"We start living downstairs by he mother and he use to try, but I know he use to smoke. But when he mother was alive he never use to do it home. But when she dead before we third son born, he start doing it home and then the beating start. He use to beat for any and everything, he never giving money but want the best.
"Miss, leh me tell you when we third son born he was so high he never come and sign fuh he…" the mother said.
One day she had enough and left the home with her three sons. She begged for a drop to Georgetown since she had no money. A vendor at the Stabroek Market directed her to what was then the Ministry of Human Services and Social Security and there, she said, she met Greene and another officer by the name of Miss Haywood.
The officers, after listening to her story, investigated by visiting the area "and when we turn up he was right there rolling a joint and it also had some cocaine in it," she recalled.
The boys were placed in the home and after she indicated she had nowhere to stay she was directed to the Night Shelter.
She eventually contacted her father, who was living in Berbice and she worked as a domestic. But what she earned was not enough for her to make it on her own. Not long after, she realized she was pregnant with her fourth child.
"I lef he [her husband] pregnant and I didn't know. When I went into the hospital it was bad. I spend one week, and nobody never come and visit me. I eat hospital food and whatever other patients give me. Is when I come out and go by me father, he show me something, it was a telegram how somebody was trying to get in contact with me," she said.
She later learnt it was a sister of her husband and when she called she was given the tragic news that her eldest child Vickey had died. Unbeknownst to her, the man had removed the children from the home and it was while they were in his care that their eldest child died after reportedly being hit by the father. When she got the news, the child was already buried. She eventually visited and returned the two boys to the home as the man was in no position to care for them.
"I don't know how they coulda give them children to he because dem see how he use to be, dem find he smoking…," she said.
Never knew her mother
As she struggled during those years, the woman said, she always mindful that her children knew who she was, because she grew up without knowing her mother and it was a pain she did not want them to endure.
"When me mother register me, she didn't even give me a name. The birth certificate just say female and give the name Singh. People just use to call me Kavita. So, when I going to get married I had to get a deed poll and change my name and it is now Rose Park-Bennett," she said.
She was an adult when she eventually met her mother, but one year later, the woman died of cervical cancer; she grieved as if she had known the woman who gave birth to her all her life.
She was working at a restaurant when she met her husband and they eventually moved in together and had two children of their own.
"I wouldn't lie to you, going and visit them and leaving them again, it was not easy. I could not help it because I didn't really living anywhere properly. How I get the money that is how I go but a year never pass and I ain't go," the woman said about visiting her sons in the home.
The woman said since she met her husband her life has changed for the better.
"And is not just he, my in-laws love me a lot. The love that they show me, I never get it from nowhere else. It was something new for me… but I never really happy and that is why my husband try so bad to get a house and land because he know the only way I could really be happy is if all my children with me."
She has been grieving since she learnt her children are no longer in Guyana and with the help of the United Bricklayers she contacted Minister of Social Protection Amna Ally and she got a phone call from an officer who ask her what she needed, and she indicated she wanted to see her children.
She has not heard from the minister's office since.
"My husband Jermaine Bennett is not a millionaire, but he is kind and loving. He does not beat me, and he has understanding. I am living a peaceful life and I should be happy but my children are missing and I can't be happy," the mother said.
Around the Web