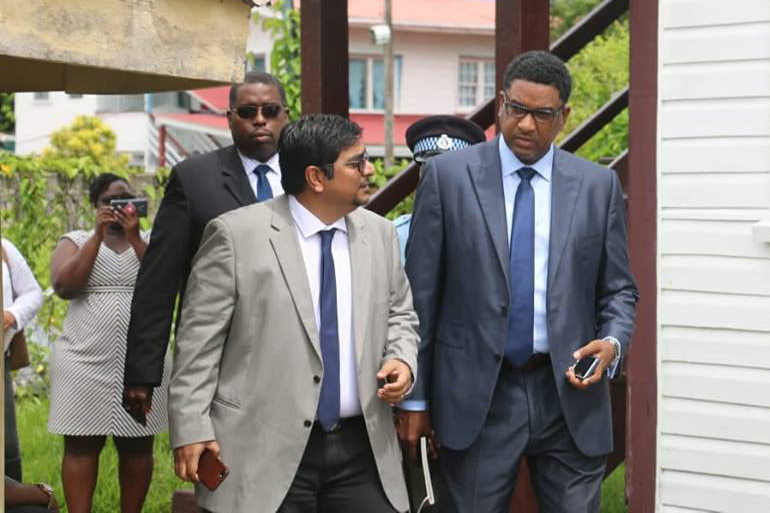 Attorney Ryan Crawford was yesterday faced with five charges stemming from an expletive-laden exchange during a recent police traffic stop and he was released on his own recognisance after pleading not guilty.
Crawford was arraigned before Magistrate Peter Hugh at the Vigilance Magistrate's Court yesterday morning.
He was read charges of prohibition of tinted glass, failure to produce a driver's licence, driving an unfit motor vehicle, use of obscene language and riotous behaviour.
It is alleged that all the offences were committed on September 13th, along Yorkshire Road, East Coast Demerara.
Crawford was represented by a total of 11 attorneys, who were led by Sanjeev Datadin. The other attorneys were Aneesa Chow, Teni Housty, Pauline Chase, Joel Edmond, Horatio Edmonson, Ganesh Hira, Ramesh Rajkumar, Chandra Sohan, Eon Smith and Lloyd Thomas.
Crawford is set to make his next court appearance on October 10th.
The attorney sparked headlines last week after a video of his outburst, during which he used a stream of expletives while questioning the police rank who had stopped him on the public road, was shared widely on Facebook.
The video has caused many to condemn Crawford's behaviour, while others have spoken out on his behalf, arguing that the police often abuse their power by stopping vehicles without suspecting them of committing a crime.
The attorney had also issued an apology for his behaviour but noted that he would remain defiant against any injustice. He had said that after waiting for a while and not being given any reason for the detention, he became angry, which led to him using many expletives to get his point across.
As a result of the wide circulation of the video, the Guyana Bar Association (GBA) last Saturday said in a press release that it holds its members to the highest standards of ethics and conduct. It implored them to conduct themselves, at all times, in a manner befitting that of the "most noble and esteemed" profession.
Pointing out that the matter is under investigation, the GBA said that it would refrain from commenting at this time. However, it expressed hope that the investigation will include the circumstances surrounding the recording, publication and sharing of the video. "We also put the general public on notice that the sharing and posting of such recordings on social media or in any such domain could give rise to the issue of the publication and sensationalism of obscene material for which they could be held liable," the GBA said.
Around the Web