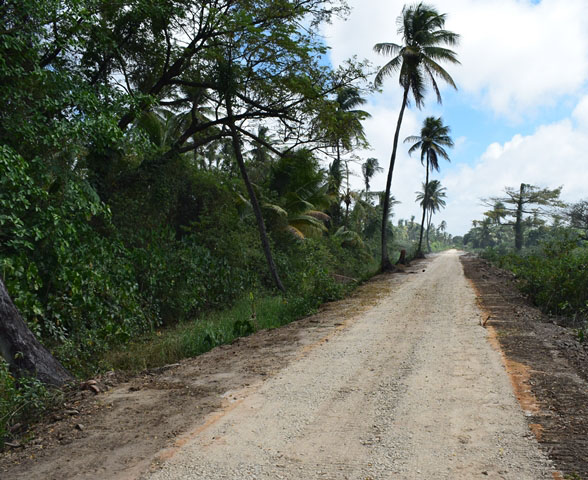 The village of Vevay, Mahaica is now benefitting from an all-weather access road.
Vevay is a small community located about a mile south of the now hardly used Mahaica road leading to the old Mahaica Bridge and market.
According to a Department of Public Information (DPI) press release, Melissa Thomas, a resident, was quoted as saying, "I am 39 years old. I was born and grew up in this community. My father is 70 odd years old – the people living here are all relatives. From the time  I have known myself, getting out to the main road at Mahaica, the old road, was always a struggle."
Thomas disclosed that the residents resorted to using a shortcut through the coconut estate to the north of the village. But that proved difficult since there was no pathway. "Many times, we had to chop a pathway through the vegetation to get home. Then the private owner of the estate stopped us from using his land to get into and out of the village and so after that for years it was a nearly mile-long walk through mud and slush during the rainy season to get in and out," she further explained
As is expected, the residents of the community are grateful for an all-weather access road and are optimistic that this is the beginning of further infrastructural development for their community, the DPI release added.
The road which has a durable crusher run surface now gives problem-free access to agricultural lands in the vicinity and behind the village. Although so near to the coast, residents at the community of Vevay have also never benefited from potable water and electricity but now things are changing for them.
The project was carried out by the Regional Administration of Region Five, Mahaica/Berbice at a cost of approximately $11.5 million following requests from the villagers to both the Regional Executive Officer (REO) of Region Five, Ovid Morrison and PNCR Member of Parliament in Region Five, Jennifer Wade.
The DPI disclosed that as part of the effort to improve the infrastructure of Vevay, the Guyana Water Incorporated (GWI) is setting up a potable water distribution system in the village. In addition, electricity supply is being actively pursued by the regional administration to provide amenities to villagers for the first time in the 80 years of the community's existence.
Thomas said everyone was looking forward to getting electricity since it means the children would no longer have to use lamps to do their homework.  
Around the Web