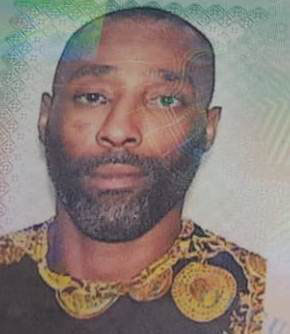 A Canada-based man who returned to Guyana recently after he was reportedly fingered in a murder was gunned down in front of a Forshaw Street, Queens-town hotel early yesterday morning. Police last evening arrested a suspect.
Dead is Sean Allister O'Brien Greene, a father of two of Alberttown and #78 Village, Springlands, Corentyne, Berbice. Greene, who was a former US marine and lived in the US before migrating to Canada, managed the operations of a family-owned hotel, the Mahogany hotel and bar in Springlands.
The killing, which sent patrons scampering for cover, bore the hallmark of a hit but Crime Chief Lyndon Alves told Stabroek News that they are investigating a homicide and it is too early to say whether Greene's death was a hit.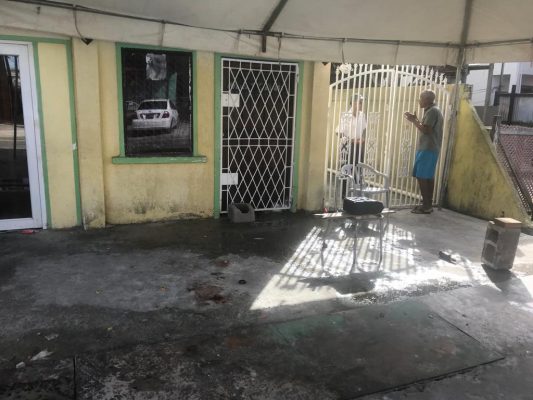 The killing occurred at about 4 am yesterday in front of the Adventure Suites Hotel. In a statement, police said that investigations revealed that the victim was standing in front of the hotel with others when person(s) unknown approached and discharged rounds at him and fled the scene. Green sustained multiple gunshot wounds and was rushed to the Georgetown Public Hospital where he was pronounced dead on arrival.
Last evening, Commander of 'B' Division Paul Langevine confirmed that a suspect who is from Stanleytown, New Amsterdam, Berbice, was arrested.
Stabroek News understands that the man was arrested at Springlands and was tested for gunpowder residue. He is expected to be handed over to the major crimes department at the Criminal Investigation Department at Eve Leary.
At the scene of the shooting yesterday, individuals, including some who were Greene's friends,  recounted the events that had transpired in front of the hotel.
Stabroek News was told that Greene was sitting in a chair under the tent when a lone gunman emerged from a car, approached him and opened fire. As gunshots rang out, persons under the tent sought cover.  The men told this newspaper that gunshots flew but only six caught Greene. They said that there was no altercation between the gunman and Greene leading them to believe he was targeted.
"He was sitting in that chair (pointing to a white plastic chair) right under the tent and the man come and start firing shots. Everybody run…cause nobody gon stay when bullets firing," one of the    eyewitnesses, who asked not to be identified, related. After the shooting, the gunman ran up the street, jumped back into the waiting car and escaped.
Two videos surfaced on social media following the fatal shooting. One of the videos, which was surveillance footage from a nearby building, showed the gunman walking calmly to Greene and opening fire. The gunman fired a number of shots and continued to fire as he backed away, before turning and running. The shooting lasted for about five seconds. As the bullets hit him, Greene fell off the chair.
The second video, which was taken with a phone by someone at the scene immediately after the shooting, showed that Greene was still alive after being shot multiple times about his body. Persons in the video were heard asking if anyone had called the ambulance or police. Blood stains from the shooting remained in front of the hotel yesterday.
Response
While speaking with this newspaper, the eyewitness lamented the response time from the police and ambulance. In the same breath, he called for emergency responses to be more prompt.
"We had to wait about 45 minutes after the shooting for the police to come here. They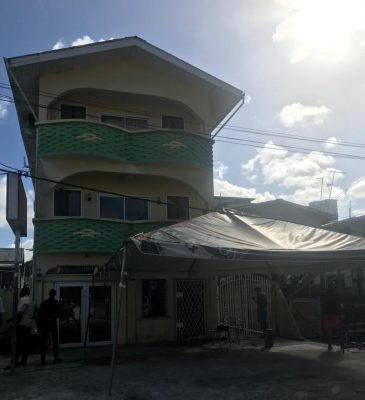 are a block away and they still take 45 minutes to come. We called so much times and when we kept calling back, they said they have a report already. Alberttown police station is not far from here yet, they take 45 minutes to reach," the man said.
Further, he said, on a normal night the street is often patrolled by police due to popular night spot Club Rio being on the street. "When it is time for them to pass they don't come. But when nothing happens they pass through here five, six times a night or even more," the man stressed.
Hit
 A friend of Greene yesterday recalled the former US marine telling him that he heard that a `hit' was placed on his head.
"He didn't go into details but he kept saying a `hit' was placed on him. I don't know why but I kept telling him that he needs to be careful and not to worry," the friend said. He added that he cautioned Greene to not stay out late.
"He came around here and told some other people that they place a `hit' on him, I was here when he said it," one of the individuals who was present when Stabroek News visited, interjected.
Asked if he was aware as to why a `hit' would be placed on Greene, the friend responded in the negative. He added that he is not aware if Greene had any grievances with anyone. 
Greene, he said, had been his friend from childhood days and the two grew up together before he migrated to the US and later, Canada. Greene was in the US Marines and was a rifle marksman according to a plaque shown to this newspaper by his uncle Jerrod O'Brien.
At his South Cummingsburg home, O'Brien told Stabroek News that the death of his nephew came as a shock to him.
"I was outside smoking a cigarette and the lady son from the shop (next door) come and say 'I am sorry' and he shake my hands. So I turned and asked 'sorry for what' and he then ask me if I didn't hear my nephew got killed," O'Brien recounted. 
He recalled that at around 1 am yesterday, Greene visited the home to use the washroom and within 45 minutes, he was out of the house.
"He told me that he is going up to Corentyne to look after the hotel his father gave him. He collected some clothes and so and said he will come back and see me but he never returned," the uncle said sobbing.
He told Stabroek News that Greene had also indicated to him that he was going over the hotel where he was killed. Asked if he was aware of any misunderstanding between his nephew and other individuals, O'Brien responded in the negative.
He revealed that his nephew returned from Canada approximately two months ago and was moving between Berbice and Georgetown. On most occasions, he said, Greene would visit him and spend a few nights.
Wanted
Following news of Greene's death, reports surfaced that he was wanted by Canadian lawmen for murder. While declining to say much, O'Brien confirmed that he was aware that Greene was wanted by Canadian authorities for murder. He said that when he spoke with a niece in Florida yesterday, she confirmed that the authorities had issued a wanted bulletin for him.
According to a report from Toronto CityNews, police were seeking a suspect in the murder of 42-year-old Chad Day of Toronto. Two others were arrested in the matter. According to the report, at around 11:30pm on September 8, police were called to a building on West Lodge Avenue near Lansdowne Avenue and Queen Street West. They found a man lying in the front driveway with serious injuries, and he was pronounced dead.
Investigators believe the man had fallen from a balcony after a fight. While the CityNews report did not name Greene, security camera photos issued by police showed a man who bore a strong resemblance to him.
Around the Web