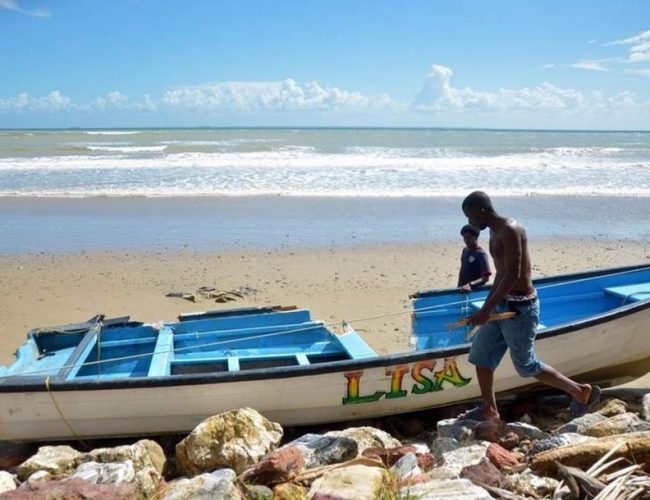 (Trinidad Express) Erin fishermen continue the search for three men who went down with their pirogue on Tuesday night.
The T&T Coast Guard called off the search at nightfall Wednesday. Divers were expected to return yesterday.
The missing men – Kel Hagley, 25, Edward Williams, 33, and Edmund Charles, 25 – were on board a fishing boat when it crashed into another pirogue.
Police said both vessels overturned with the seaman inside.
Sheldon Guerra, 35, died in the accident.
Police said five others were reported injured.
Williams' niece, Kizzy Fortune, said fishermen have been searching since the incident happened.
"They never stopped. The Coast Guard came the following morning and stopped at nightfall but the fishermen never stopped. They have been searching since then and are still out there looking for my uncle and the other two. We are praying that we find them alive. If not, we are hoping to get the bodies so my grandmother can get some closure," she said.
Fortune said the pirogue her uncle was in has not yet been sighted. "We think the boat sank," she said.
The second pirogue involved in the accident was recovered. An autopsy is expected to be performed on Guerra's body this morning to determine whether he drowned or died from injuries when the boat overturned.
Comments

LONDON,  (Reuters) – Oxfam's country director in Haiti admitted to using prostitutes at his residence during a relief mission before resigning in 2011, according to an internal investigation into allegations of sexual misconduct released by the charity yesterday.
(Trinidad Guardian) Networks of the ISIS cell in T&T which Prime Minister Dr Keith Rowley referred to in Parliament are spread from Aranjuez, Charlieville and Enterprise to Rio Claro among other locations, a national security official has said.

(Trinidad Express) Government Minister Maxie Cuffie's medical treatment and recovery has cost the Trinidad and Tobago taxpayers $2.49 million.
(Trinidad Express) It took two powerful Trinidadian business families, the buying and selling of millions of shares, the amalgamation of several companies and a secret lock-up agreement to give one man—Jamaican billionaire Michael Lee-Chin—a path to control of the publicly traded, Guardian Holdings Ltd (GHL) of Trindad.
PORT-AU-PRINCE (Reuters) – Haiti's president said on Friday that sexual misconduct by staff of British charity Oxfam was only the tip of an "iceberg" and called for investigations into Doctors Without Borders and other aid organizations which came to the country after its 2010 earthquake.