(Trinidad Express) Prime Minister Dr Keith Rowley said he has evidence that former United National Congress (UNC) Ministers received bribes when in office.
"You know what ten per cent of $4.68 billion is? It is $460 million, that is if the bribe is at ten per cent,, I can tell you tonight that this Government has evidence of ten per cent bribe being taken by UNC Ministers and it's on its way to where it belongs," said Rowley.
He was speaking at the People's National Movement (PNM) public meeting at the La Horquetta regional complex hall on Thursday.
"There is no right to thief public money in Trinidad and Tobago!" he said.
He said the ten per cent bribe was on the "low side".
The Prime Minister also shared an incident which occulted when he was in the Opposition.
"I was home in my house, we were in the Opposition as Opposition leader when he (Rohan Sinanan) called me to tell me that a contractor who was supplying a service, not a building contractor, a contractor supplying a service, was on his way to a Minister's office with millions of dollars in cash to the Minister,"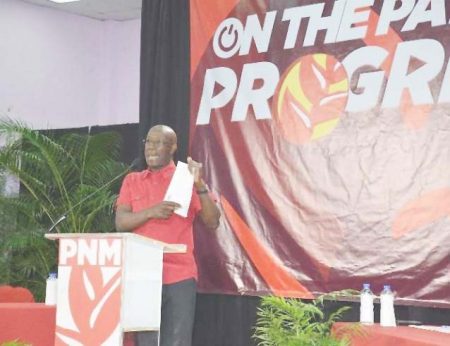 He said he asked where was the money going and was told to the Minister's office.
"I said and has he (contractor) arranged for the police to join them there?" he said.
Rowley said the contractor's position was to complain to the Opposition about the fact that the Ministers were "shaking them down".
He said when he insisted that the police should get involved, the contractor's position was "no, I wouldn't get any more wuk,'.
"That was what was going on under the Kamla Persad-Bissessar Government and today they in the Parliament and want to give us advice and scolding us, we who running this country on a shoe string," he said adding that his Government has worked to stabilise the economy and preserve jobs of those who depend on the State.
"We know that some persons are finding it very hard, it could have been easier had we not wasted and  stolen the amount of money that was wasted and stolen in the last five years but we have to make do with what was available today," he said.
Comments

(Trinidad Express) The woman beaten to death with a brick in Mayaro on Monday night was eight months pregnant.
CARACAS, (Reuters) – Opposition presidential candidate Henri Falcon's campaign vowed yesterday to implement a $25 monthly giveaway to Venezuelans, as part of plans to dollarize the crisis-hit economy and alleviate suffering should he win the May 20 vote.
WASHINGTON, (Reuters) – The United States will provide $2.5 million in food and medical aid to Venezuelans fleeing their economically-crippled country to neighboring Colombia and is poised to help other countries if the situation worsens, U.S.

Trinidad's sixth President Paula-Mae Weekes was inaugurated yesterday at a ceremony at the Queens Park Savannah, Port of Spain.
BUENOS AIRES,  (Reuters) – Colombia proposed yetserday that the International Monetary Fund provide assistance to help several hundred thousand Venezuelan refugees who have fled an economic and political crisis to neighboring countries, officials at the G20 summit said.