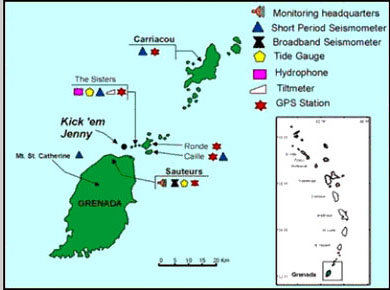 (Barbados Nation) The alert level of the underwater volcano Kick 'em Jenny, located near Grenada, has been raised from yellow to orange, but there is no indication of it posing any immediate danger to Barbados.
Director of the Department of Emergency Management (DEM), Kerry Hinds, gave the assurance that her agency was closely monitoring the situation and appealed to ships and marine operators to observe the exclusion zone of 5km or 3.1 miles off the volcano.
"We are monitoring the situation, which has been brought to our attention by the Seismic Research Centre (SRC) of the University of the West Indies in Trinidad," she stated.
Hinds emphasised that there was currently no tsunami threat to Barbados, and reminded the public that any official advisories on the volcano, if necessary, would be issued through the DEM and the Barbados Government Information Service under advice from officials at the SRC.
The Grenada National Disaster Management Agency is presently collaborating with the SRC to monitor Kick 'em Jenny, which has shown increasing signs of activity since Saturday.
An orange alert for the volcano means that there are highly elevated levels of seismic and or fumarolic activity, or other unusual activity. Eruption may begin with less than 24 hours' notice.
Comments

(Trinidad Express) Three police officers attached to the La Brea Police Station have been suspended from duties pending the outcome of an investigation into how they responded to a domestic violence report made by Abigail Chapman, who ended up being killed along with her daughter and two others in la Brea this week.

(Jamaica Gleaner) Gloria Palomino was the first Jamaican woman to receive a recommendation by Dr Uma Dhanabalan and Dr Shantell Neely-James to legally purchase Cannabis in Jamaica.
KINGSTON, Jamaica (JIS) — The Petroleum Corporation of Jamaica (PCJ) says Jamaica stands to gain positively from the Production Sharing Agreement with Tullow Oil Limited, in the exploration for oil and gas off the island's coast.
(Trinidad Guardian) Even though Chief Justice Ivor Archie has changed his sabbatical leave to vacation leave, Government is still seeking the courts' interpretation on whether sabbatical is really an entitlement for judges.

(Trinidad Express) Police are asking for the public's help in locating Roger Mathison.